The cutting edge Berlin based fashion brand Impari aims for community building through design
Berlin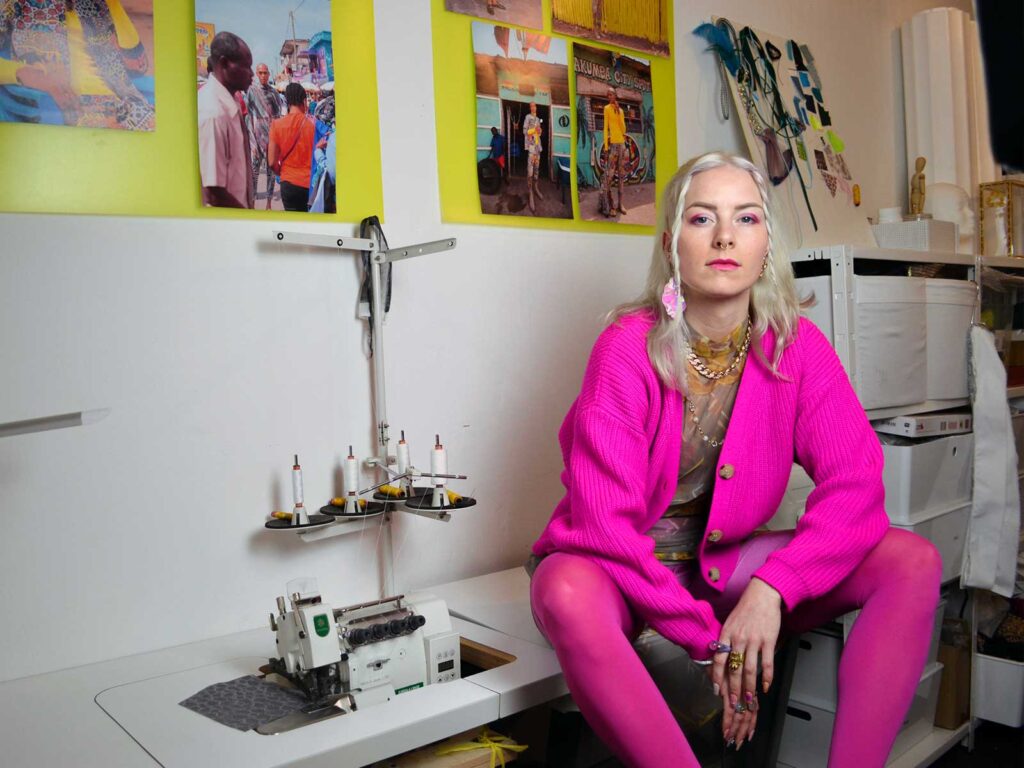 Berlin is a city that is home to the cutting-edge creative scene spanning from music to art to fashion. At the forefront of this space is fashion brand IMPARI lead and founded by designer Jana Heinemann. The brand prioritises colour and expression, aiming to "connect people through art, illustrating the world's diversity and encouraging unity".
Heinemann herself got an early start in fashion design, at the age of 12 she was already using her grandmother's sewing machine to create accessories. This quickly turned into aspirations to use her passion is to encourage people to embrace their own unique styles and make a positive impact on the world. Her design is driven with colour and pattern, designing her clothing to stand out and not blend in – "a colourful capsule of street elegance".
Impari is also a brand synonymous with sustainability, using a zero-waste approach. Her designs reuse all cuttings from past designs in future ones, which aligns with her pattern mixing and striking silhouettes. By focusing on the environment communities can come together and reconnect with each other and the earth – Jana hopes to be a driving force in this outcome.
Berlin has been a huge component in her development as a designer "the biggest inspiration I get from the people in Berlin, and also the nightlife, events, art exhibitions and markets. Especially from the exchange with other artists". Being tied so intrinsically with the city has given her designs a fresh edge that feels relevant within the confines of the urban metropolis.
UNCLE collaborated with Impari on a mission to make the streets as colourful as her fashion with wildposting and billboards across the city. We discussed her design beginnings, inspiration and future goals and discovered her optimistic responses are as mystical as her clothing.
WHAT INSPIRES YOU?
The choice of fabric is very important to me – not only should it be as sustainable as possible, but the fabrics themselves often inspire me about how a garment will turn out. But of course, also everything that surrounds me – Berlin, people, friends, colours, traveling, the art scene, and the music scene. Many of my ideas arise when I dance and especially travelling, meeting different beings, the conversations with friends and with my man too.
HOW DID YOU GET INTO FASHION?
I started sewing with my grandmother's sewing machine when I was 12, then I sewed scarves during my bank apprenticeship and sold them. From that moment on, I realized people love it when different materials and prints meet each other. I arrived in the fashion world in 2015 when I started my tailor apprenticeship on the famous Boulevard 'Ku'damm' in Berlin.
WHAT WAS THE FIRST THING YOU CREATED?
A handbag when I was 12 looked more like a jute bag with a big bow, but I was super proud, and it turned out that bags still play an enormous role in my life, in every shape and colour.
DESCRIBE YOUR DESIGN PROCESS?
I produce each piece with zero waste by reusing all my cuttings in future pieces and all my garments are produced locally. I use various machines, including an old treadle sewing machine – I love to sew and producing something with my own hands. I design 3D elements with a digital program or drawings for my print production.
WHAT DOES FASHION MEAN TO YOU?
Fashion is everywhere in my life – it is my profession, my passion, and my addiction. For me, it plays such a big role because it is the cover with which I can carry my inner self to the outside world. I can reflect my creativity and personality. Also, with fashion, you can make statements, give others a smile, inspire others, and convince them to be allowed to be individuals. Fashion can make you more self-confident and give you strength. When you have found your style, fashion gives you joy and the feeling of being yourself.
WHAT IS THE THING YOU LIKE MOST ABOUT BEING A DESIGNER?
Every day is different and new, I feel free as a designer. Even though the job is anything but a 9 to 5, it accompanies me every minute of my life because everything is always inspiring. Design for me means everything that surrounds me influences my work. I do this profession because it comes out of me and grows with me. Everything I have experienced, especially during my time with IMPARI, has made me what I am now and that makes me incredibly proud. I call myself Ms. Impari because being the designer of my brand is a gift – that gives me so much gratitude. I can't imagine any other profession.
HOW HAVE YOU REFINED YOUR OWN PERSONAL STYLE?
I would call my style a colourful capsule of street elegance. I love to combine all colours and prints with each other – comfortable and extraordinary. I can never wear enough accessories, that makes an outfit even more valuable, in my opinion. That's why I also put a lot of emphasis on accessories at Impari. Of course, my daily looks cannot be missing unusual shoes, bags and sunglasses – more is more, then I feel perfect.
DOES COLOUR MEAN A LOT TO YOU? WHY?
Colours are everything, without colours life would be grey and boring. Unfortunately, we are losing colour through the fast fashion industry, everything looks more and more the same. There are almost no more unique pieces. People think it is normal to pay five euros for a T-shirt, but I think it's sad that handcraft has lost so much appreciation. That's why I'm trying to bring the colours back to the streets with IMPARI, where we need more joy and variety in this fast-paced world. I think the more we show how colourful the world is, the more people will adapt. For me, connecting with other individuals is the most beautiful thing to experience, it is simply the greatest gift and the most beautiful inspiration we have.
TELL US ABOUT YOUR ARTWORK DESIGN? THE CREATIVE DIRECTION/IT'S MEANING?
Impari is different, it should give everyone the opportunity to find themselves and feel comfortable. My artwork are my prints and the unusual colour combinations. In addition, I make sure that my patterns are special and comfortable, and each person can find something suitable for his body. An important part of my work are also my fashion shows. I love to surprise the audience with a dance performance or a musical act. My shows always tell a story and is diverse, I want it to touch the audience or make them think.
WHAT DO YOU LOVE ABOUT BERLIN?
Berlin is a city with a thousand faces and even more stories. I love that you can never have seen everything in Berlin. It's incredibly inspiring and super exciting. Also, you have so many opportunities to experience different cultures and places that you would otherwise have to travel to. If you want to be fashionable, Berlin has unlimited possibilities.
HOW HAS BERLIN SHAPED YOU AS A DESIGNER?
In Berlin, I did my tailor training and then also my fashion design studies. So Berlin has been with me from the beginning. The city has shaped me, constantly changing and by the many incredible personalities I was allowed to meet here. I also get a lot of inspiration from Berlin's nightlife. Everything in Berlin is so changeable and edgy for me. It's not a perfectly clean German city, and that's what excites me the most. It's different, fresh, and wild. I can relate to Berlin very well.
WHY IS YOUR SHOP AND THE EVENTS YOU RUN IMPORTANT TO YOU?
In my store, I can enjoy personal contact with my customers and have space for my creativity. I can also let the design of my working environment speak for Impari. I like to make custom-made pieces there which is, in my opinion, an incredible gift. In addition, people notice Impari, who might never have discovered me online. My events are especially important to me because I want to create a space for creative individuals, artists, and fashion-interested beings. I want us to push and support each other more. Everyone is so individual, and I think competition is just a downer, and really old-fashioned. We can all grow faster together in a more sustainable way.
HOW WOULD YOU DEFINE YOUR BRAND?
IMPARI means unequal. Unequal to me expresses individuality. Self-created prints in combination with a wide variety of materials and colours characterised the signature of my designs. The most important thing is that I want to set a new view on sustainability in the fashion scene. I want to show that sustainable clothing can be modern and that joy, individuality, and connectedness can be expressed through bright colours. The most important thing in my design process, which is also reflected in all my designs, is diversity. The values of IMPARI are sustainability at its core and bringing real diversity to the outside world through fashion. Not only in the design process, but also in the choice of models and artists. It is important to me that this vision runs through all areas of my label, IMPARI connects individuals, and it's about more LOVE and AWARENESS.
WHAT'S NEXT FOR IMPARI?
Impari just launched the first online collection ONT_KOP, all the materials used were certified recycled PET. The mission of Impari is to combine sustainable fashion with social responsibility. That is why Impari started together with Code for Africa, a project in Ghana. We will offer on-site workshops to create new products from fast fashion and waste, and to give artists new opportunities to develop their own businesses sustainably. The fashion industry always creates new materials from new resources, and thereby all the garbage is forgotten. We first must free our earth from that.