Record Store Day shows solidarity with local communities and music's unspoken heroes
Birmingham, Brighton, Bristol, Liverpool, London, Manchester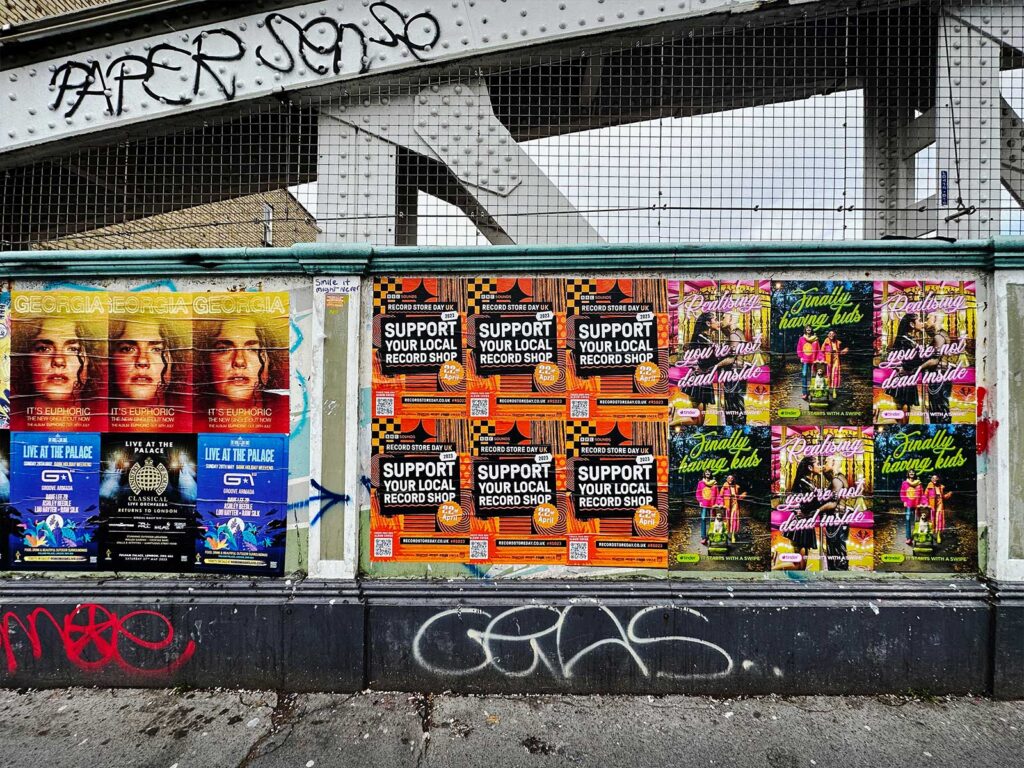 In anticipation of the upcoming Record Store Day on the 22nd of April, UNCLE have partnered with The Digital Entertainment and Retail Association to canvas the UK with artwork marking the events 16th year. The day celebrates independent record stores and the "unsung heroes behind the counter who work hard to keep their doors open every day of the year". UNCLE thrive when supporting the local communities within our cities, so it was only fitting to make a statement in Birmingham, Brighton, Bristol, Liverpool, London and Manchester.
In the last decade the resurgence of vinyl popularity has been a key moment for music history and Record Store Day has been recognised as one of the key driving forces behind this. The day supports, elevate and champions the unwavering resilience and dedication that these stores and their staff have continued to show in times of recent societal adversity. Through both the pandemic and the cost-of-living crisis ingenuity conquered all with staff's exceptional effort to keep the culture alive. The day itself will see 250 record shops come together in the UK – with thousands more worldwide -to celebrate their unique culture by hosting parties, in-store performances and live events for customers and fans alike. The stores taking part can be located here.
Record Store Day goes beyond vinyl; it is at its heart about music culture and how that impacts the heart of its communities. Music is perhaps the universal language; it can bring people together and make a statement as powerful as any other creative medium. Supporting the hubs of its existent ensure longevity for these significant culture markers.
To show solidarity with the beliefs behind the day, hundreds of artists have swarmed to show their support. The 1975 taking the mantle of 2023's ambassadors and frontman Matty Healy has been vocal about their involvement – "The guys and I are really proud to be ambassadors for Record Store Day this year. Independent record stores are the lifeblood of the music industry and have played a crucial role in our story so far. It couldn't be more important to support their vital community and culture.". Hundreds of exclusive, special releases from artists including Elton Jonh, The 1975, Taylor Swift, Pixies, Madonna Yard Act, Greentea Peng, NAS and Blur will be available at partaking stores to celebrate the event.
Twitter:@RSDUK / Facebook:@RSDayUK / Instagram:@recordstoreday/ TikTok: @recordstoreday