Yoko Ono wants you to IMAGINE PEACE
London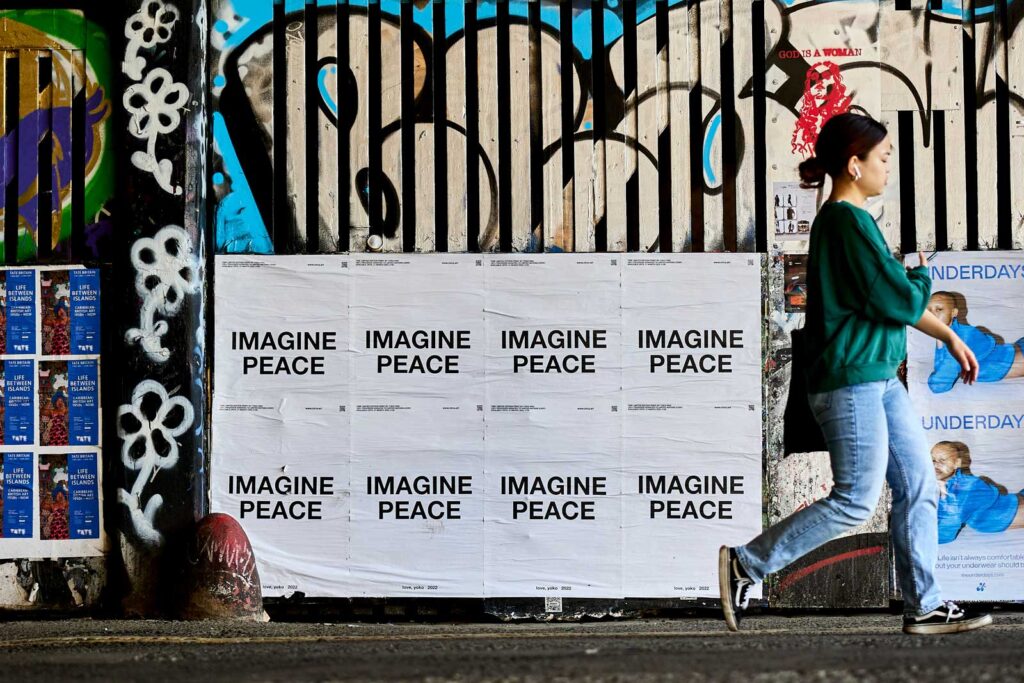 As an artist, Yoko Ono is synonymous with the word "peace". A lifelong pacifist, her "Imagine Peace" project was born in March 1969–an event with strong imagery that people around the world remember, regardless of whether or not they're fans of her work. It was then that Ono and her late husband John Lennon staged a "bed-in" against the Vietnam War, protesting from their bed for a week at the Amsterdam Hilton hotel and later Queen Elizabeth Hotel in Montreal. It was part of a larger series of similar protests, but theirs and the photos of it garnered the most attention.
Russia's invasion of Ukraine is the latest war that has shocked the world and grabbed the attention of Yoko Ono. We collaborated with Ono, arts and culture platform Circa Art and BUILDHOLLYWOOD to promote the latest instalment of a decades-long project for peace. Ono's words, "Imagine Peace", will be occupying digital screens across the world in their local language. Piccadilly Lights in London, Times Square in New York and K-Pop Square in Seoul were among those interrupted to broadcast the phrase, but the art installation, presented by Circa and Serpentine Galleries, can also be seen in Berlin, Los Angeles, Melbourne and Milan. Our flyposters spread word of the project in London and New York, bringing a message of peace to streets across the world.
Alongside the public art and posters, a limited-edition print will go on sale with all proceeds donated to the United Nations Central Emergency Response Fund. In a press release, Ono said, "Imagining is something that we can all do, even when we have different opinions about how to get there." You can find out when the screen near you will next be interrupted here.