Migrate Art and Idris Khan Team Up to Aid Ukraine
London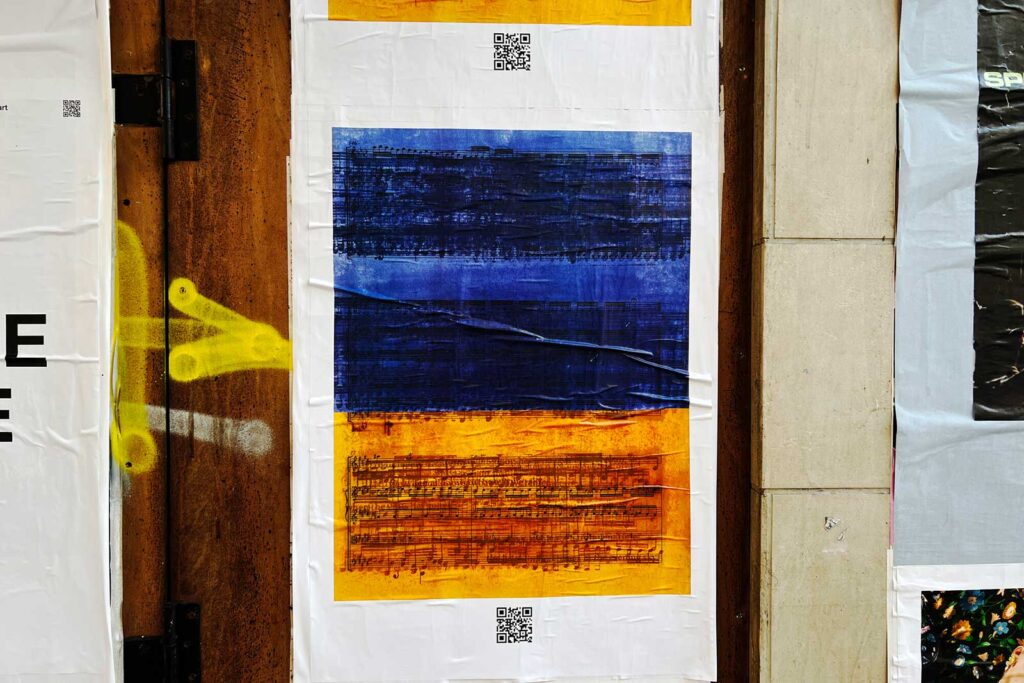 In the wake of Russia's invasion of Ukraine, you can see the familiar blue and yellow of Ukraine's flag flown in solidarity everywhere you go. Many artists are using their talents and those colours to show support of Ukraine, both with art and with tangible efforts like cash aid.
We teamed up with Migrate Art and artist Idris Khan to create his own take on the flag, a limited-edition print on sale for £300 for 10 days only, a reflection of the concept of running out of time. Called "I Thought We Had More Time…", the piece inspires the viewer to think about the reality of what's happening and their own lives. Collaged with those bold colours over sheets of music, Khan was inspired because the flag has become, "the symbol of the free world for a lot of people, and a symbol of hope and defiance. It's really strong — two bold, strong colours, blue and yellow," he said to the Evening Standard.
We'll be putting up flyposters across the UK, bringing the crisis to the attention of all passersby. Sold as part of the Evening Standard's Ukraine appeal, the piece is powerful. Speaking to the Standard, Khan said, "My first thought was about not having any time. One day everything's okay, and then suddenly you've got two hours to leave everything behind and get out of your house or flat, wherever you are, and make a decision about what you take. I've got two kids as well, and that vision of just grabbing them and having to flee and leave everything behind while you watch your home be destroyed–that was a complete shock. Your emotions are: what can you do? How can you help?"
Everyone has been using what they have to hand to help the people of Ukraine, and in both our and Khan's case, that's art. 100% of profits will be donated to the Disasters Emergency Committee.