With SHIFTINGSCAPE (S), Two Artists Reach Across Borders
London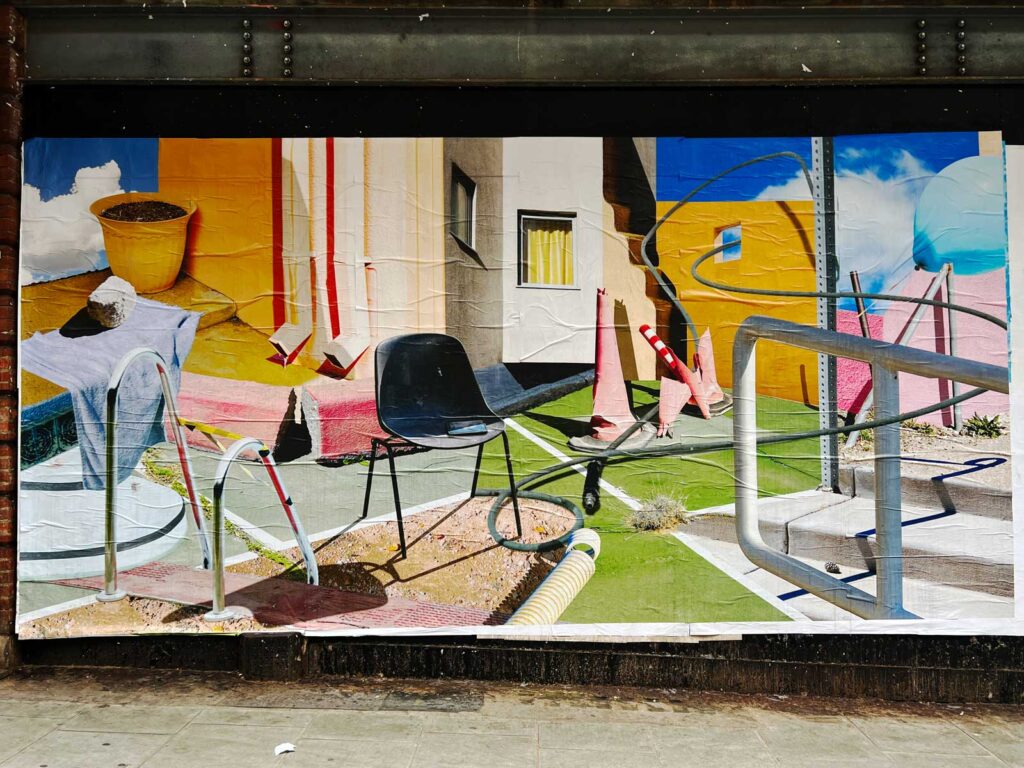 In recent years, we've all learned that connecting as human beings doesn't always mean being able to touch one another, reaching across screens and borders to forge genuine human connection. Two artists, Jim Eyre and Natalie Christensen, have taken that connection to the next level with a large-scale mural project that they collaborated on from different countries–the UK and U.S.A. The piece, entitled SHIFTINGSCAPE (S), will be taking over two mega sites in London.
A colourful, chaotic piece that challenges our perception and retrains our eyes, Shiftscapes is going to stop passers-by in their steps. Natalie and Jim began their partnership in 2017 over Instagram and since then have refined their work together. As they put it, their correspondence "blossomed into a collaboration in which they built art pieces that respond to the often-fraught practice of sharing work in a virtual space that wasn't built with art appreciation in mind."
SHIFTINGSCAPE (S) is a 10' x 20' installation that works as "an idealised manifestation of a social media hyperscape and its accompanying profound psychological effects." Speaking to Uncle, Jim said: "Working in different continents has its limitations and time differences but working in a new way we are able to meet , share and produce work in our digital studio. We meet physically in the real world when we display our work to have a shared experience and create memories."
With their work, says Jim, the duo aim to challenge the viewer, to make them ask questions of themselves and to open conversations about the digital realm. Natalie added: "It is important to us that the audience experience a sense of wonder and disorientation from our work, especially SHIFTINGSCAPE (S). Because we take our inspiration from social media and the impact of those spaces on our brains and lives, we want to create that kind of experience through our art." They do that with a mash up of street elements, a confusing mix of scale and texture, bright colours, and the temporary nature of installation. 
Reflecting disorientation and aimlessness, the bright colours and chaotic visual landscape encourage us to keep watching–even when it's uncomfortable.  SHIFTINGSCAPE (S) will be live until the end of August, when Natalie will also visit the piece.