Marina Abramović Leads Us Into the Future
London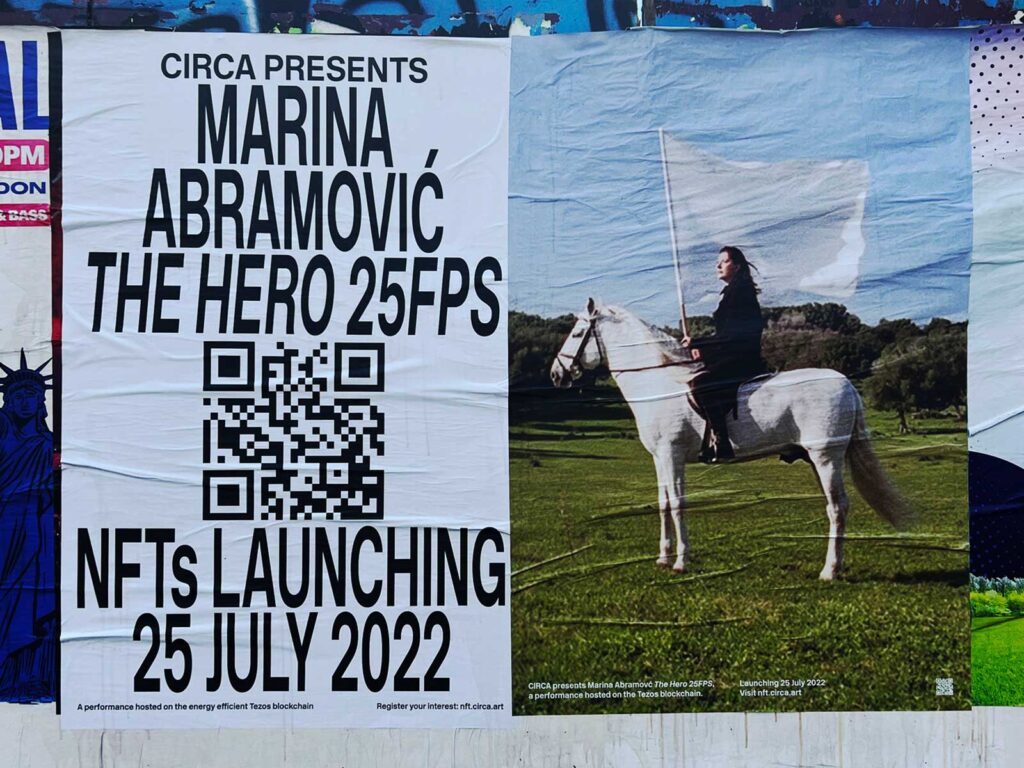 Legendary performance and conceptual artist Marina Abramović needs no introduction. Born in Serbia, Abramović has made global waves in the art work with innovative works that straddle the boundaries of art and performance. Exploring the limitations of humanity and the human body first with her Rhythm series and more recently with The Artist is Present, there is no one working in that field today quite like Abramović–or that wasn't inspired by her.
That's why we're so honoured to team up with Abramović and The Cultural Institute of Radical Contemporary Art (CIRCA) on a very special piece of work entitled The Hero. The Hero is a collection of 25FPS NFTs that will "expand the concept of time-based media for a digital audience", hosted on the energy efficient Tezos blockchain.
To get the word out about The Hero, UNCLE are flyposting across London. Featuring Abramović on a horse waving a white flag, the posters include a QR code so passers-by have their chance to own a piece of history–and the future. Speaking, fittingly, to Hero Magazine, Abramović explained that she originally filmed The Hero in 2001 when her father died, an homage to her own hero. In order to fill the screen in Piccadilly Circus, Abramović worked for months to edit each individual frame.
Explaining her foray into NFTs, Abramović said, "If we think about the history of performance art, it's always about immateriality," she added, "All that is left with the audience is a memory of that event and the performance is very important to be done for the public, so it's also interactive. So many years later, what do we have? We have the NFT which is also immaterial, also about time and also about the direct experience of the audience."
The Hero will launch on July 25 at 2pm UTC.