RedKite NFT launches Humanity, the metaverse's answer to the humanitarian crises
London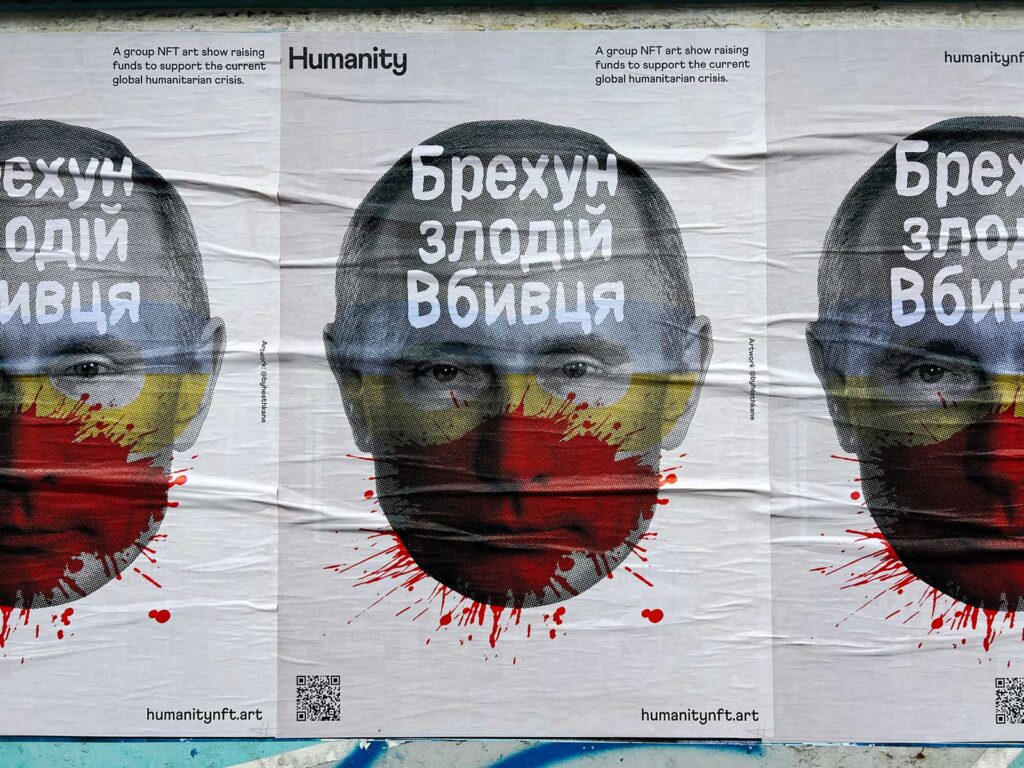 As our technologies advance, it becomes increasingly apparent that all things regarding the digital world and metaverse are ever evolving. For our latest collaboration, we have partnered with RedKite and Ourtypes to put up flyposters promoting their group NFT art fundraising show.
Running for 16 days, the art show entitled 'Humanity' has been created to raise money and awareness surrounding the conflict in Ukraine. The show features 33 esteemed artists, both traditional and NFT specialists, who have come together with the intention of raising USD $84,000 for charities including: Emergency Fund, The Refugee Council, UNICEF UK Children's and The Voices of Children Foundation.
The collection of work itself sees 256 NFT art pieces, ranging from 0.1 ETH, 0.15 ETH, 0.2 ETH, and 0.25 ETH in value, are available in editions of 8. Pieces include art from the likes of Pure Evil, street artist Fanakapan, Ben Eine and Dave Buonaguidi, AKA Real Hackney Dave. Most notably is work featured by Heath Kane – who created a bold image with the text 'liar, thief and murderer' in Ukrainian, which we flyposted across London.
Speaking on the show, curator Angie Davey said, "as with any global crisis, artists are some of the first to get involved to help out, and as an NFT platform with access to these artists and a means to raise funds, RedKite made the quick decision to put on Humanity, to aid refugee charities." Alongside the show, limited edition artwork created by Pure Evil during a session of art therapy with children in Ukraine will be put on auction on Tuesday 21st June. You can find out more here.