Umbilical Chords combine eccentricity and immersion ahead of club night
London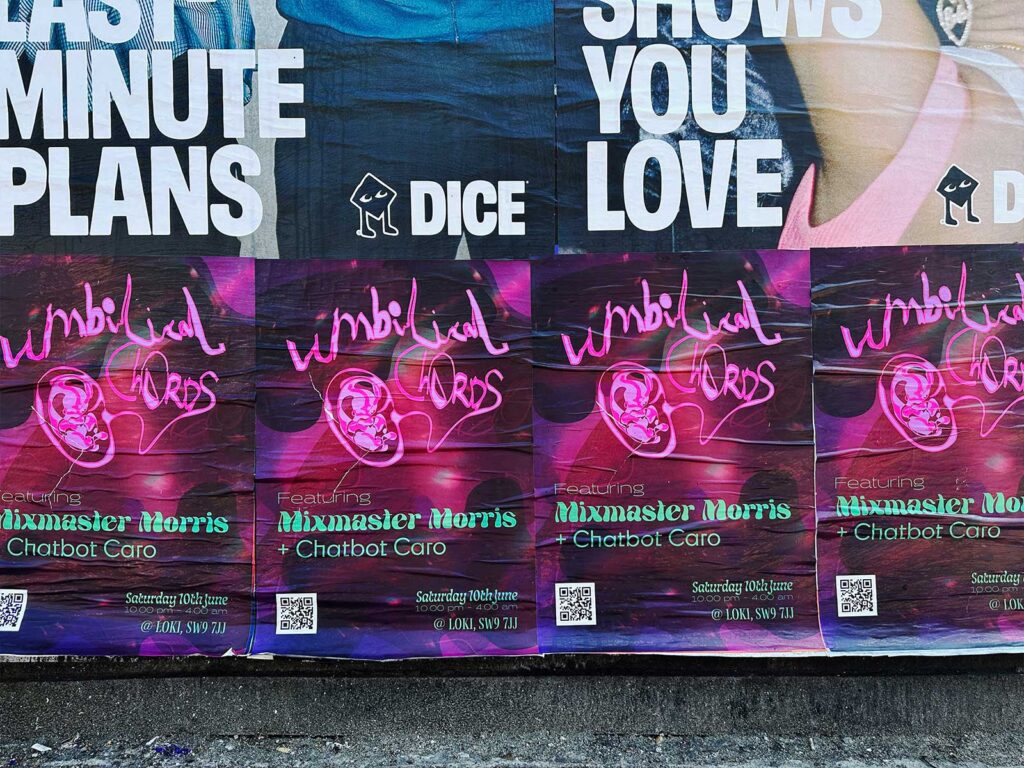 DIY collective Umbilical Chords have a tough ask standing out within a city like London, where the events sector is saturated with options for music lovers galore. But the group's progressive mindset never fails to set the bar high – their flair for theatrics has had people talking for quite some time. Prioritising immersion sees their events beckon a new wave of club culture that demands all the senses be tantalised. UNCLE have collaborated with them on their upcoming event on June 10th that sees DJ Mixmaster Morris headline Loki in Brixton.  
UNCLE chatted with Josef ahead of the event to explore how the collective came to be and what makes their events and experiences so unique.
HOW DID THE UMBILICAL CHORDS COLLECTIVE COME TO BE?
All the members of the collective have known each other for a long time – a few years ago now a bunch of us found ourselves living together in a decrepit house in Clapton. It all began by just throwing house parties together. We noticed how if we transformed the house with decorations and lights it would have a deep and positive effect on the vibe of the party. These parties eventually spilled out into putting on nights up the road at New River Studios in Manor House. And all the rest developed gradually and naturally from there and now we put on a whole range of events all over London and Bristol, host stages at festivals and run one of our own every year in Somerset with another collective called Coop Audio as well has hosting shows on Noods Radio, Threads Radio and RTM.
WHAT DO YOU FEEL IS THE PURPOSE OF THE COLLECTIVE?
Umbilical Chords is an arts and music collective that aims to create transformative events that have genuine human connection at the centre. We place special emphasis on transforming the spaces we use to create otherworldly environments. These temporary installations are designed to emulate the sensation of being in the womb – a shared experience buried deep in the subconscious of every human. These surroundings are intended to make those inside feel secure and able to express themselves.
We are also serious about the music! Our musical identity is pretty fluid – we're not tied to any genre. Where possible we like to combine live acts and DJs and, in the past, have had people such as alternative rapper Lex Amor to forward-thinking electronic DJs like C.A.R and Clarity Clinic (founder of Weaponise Your Sound) and contemporary Latinx DJ Papaoul play for us. The connecting thread is their ability to create an open and communal vibe and their playful experimental nature.
WHAT INSPIRED THE NAME 'UMBILICAL CHORDS'?
Founding member Will came back from work one day and just announced that we should start a night called Umbilical Chords (Chords with an 'H'). I honestly can't say where that inspiration came from – perhaps he was feeling broody. Since then, we've come to discover a whole lore around the name. Perhaps the name chose us? The Umbilical Chords represent the vibrant natural frequencies of the universe. All matter is made up of vibrating particles, vibrating across frequencies of sound and light. The big bang struck the universe into existence, its oscillations rippling through trillions of particles out into space. The Umbilical Chords is the natural frequency of the universe. The harmony that sang everything into life. The chords nourish us in the same way that our mother's umbilical cords nurtured us as embryos.
When we dance, engage and commune with each other we echo these life-giving vibrations and our minds, bodies, souls and atoms sing in harmony with the Umbilical Chords.
Or maybe it doesn't mean anything at all and it's just a lame pun.
WHAT WAS THE DRIVING FORCE BEHIND THE NIGHT'S CONCEPTION?
We wanted to have a party to usher in the beginning of Summer – to welcome us into the heart of the year. And there's no better way to do that than with a foot stomping dance session underneath our embryonic canopy of pink parachutes.
HOW WAS THE LINE UP DECIDED?
We have been long-term fans of Mixmaster Morris for many years. We first stumbled across him playing the closing set at Shambala festival many moons ago. I'd never seen a DJ quite like him – very smooth transitions with no insistence on beatmatching, a deep-dive downtempo excursion full of surprises. I was rooted to the spot I had no idea what kind of track was going to come next – at one point after a number of bleepy electronic numbers he dropped an acapella version of Ed Sheeran's 'Shape of You' and somehow it worked perfectly! We've seen him loads since then and we actually got to talking with him at last year's Shambala, exchanged numbers and we ended booking him for the 10th June – a beautiful full circle moment.
The other DJ on the line up is Chatbot Caro – an outrageously good little-known DJ. Caro blew our minds at our Weekender festival last year, delivering one of the stand-out sets of the weekend. She told us she prefers playing warm-up sets so it only seemed right to have her melt the dancefloor down into butter before Morris fries us into crispy heaven.
WHAT IS THE PURPOSE OF THE NIGHT?
As always, the purpose of Umbilical Chords is to create events that aim to foster a sense of community, not just faceless transactions. Facilitating genuine human connection and exchanges that go beyond the confines of the club/event itself are a priority for us. We believe that the best way to allow this to happen is to ease people into it slowly — you don't start a meal with dessert.
With our extended day-to-night events we aim to incorporate workshops and/or craft/food elements alongside more ambient and chilled daytime music sets. These activities break down barriers between attendees who may not have met before, and build a commonality between attendees in a more considered way than typically available in a club setting where intensity is high from the offset. The connections and activities inform and the energy built up through them carry over into the party later in the evening, and hopefully beyond the event itself.
For the 10th June – the setup is for more of a straight-forward club night. But we'll be bringing out signature immersive decorations and props to transform the space into a womb-like bubble of joy – a temple to the Umbilical Chords. This will help people to lose their inhibitions and allow themselves to be carried away by the music. All the action will be in one room as well, helping to create a cocoon-like vibe.
TELL US MORE ABOUT THE ARTWORK?
As always, the artwork was put together by UC core member Tara Russell – who is the artistic driving force behind our event installations and image. The lore of the Umbilical Chords informs all our aesthetic choices. We seek to build warm and welcoming environments in opposition to the harshness of our current society. Our colour palette is made up of soft, warm tones that emulate the first colours we ever saw as light shone through our mother's bodies and onto our freshly formed eyes; bodily hues of red, pink, purple and orange. In the same vein, our installations aim to soften the edges of the spaces we inhabit. The pink parachutes we use to make our ceilings recall the membrane of the womb and encourage attendees to lower their inhibitions and feel free to move differently and flow without the constraints of traditional spaces.
Tara created the backdrop and then redesigned our original logo (which had been designed by Joe Mcrae) to incorporate a foetus connected to the text by an umbilical cord. The foetus is also intended to simultaneously look like an ear – to highlight the connection between the Umbilical Chords and music, which is a nice touch.
HOW IS THE COLLECTIVE TIED TO THE CITY OF LONDON?
Umbilical Chords was born in the city of London – our genesis is connected to our experiences going out and partying in the city. Part of the reason we are the way we are is that we noticed there was a gap in the London clubbing landscape for nights that not only had good music (there's loads of them) but also transformed the spaces they were in into immersive transportive environments. There's obviously a time and a place for a dark basement with a banging sound system but it's also nice to have something extra in that space that combines with the music to create a transcendent experience.
WHAT EVENTS HAVE BEEN THE MOST MEMORABLE AND WHY?
Our mini festival we run with another collective called Coop Audio is always the most memorable events we do. It's the culmination of everything Umbilical Chords is striving for. Set in the grounds of a beautiful mansion in somerset. There are no external bookings all the workshops and performers are ticket holders themselves so there's no differentiation between audience and artists – they are one and the same. Food is included in the ticket price. There's music all round the clock, amazing activities and workshops, our immersive installations – even a pool and a sauna. It's a beautiful celebration of communality. All 200 tickets for our 2023 weekender sold out in 2 days with no promotion other than word of mouth – but if you unfortunately missed out you can sign up to the waitlist here.
WHY LOKI BRIXTON?
We used to party in the space years ago when it was under different ownership but then it closed down. Now it's been re-opened by the team behind Fox & Firkin – the legendary pub and venue space in Lewisham so we had to jump on it. It's a great spot, easy to get to and with an amazing sound system. Super excited to be dancing with everyone here on the 10th of June.
WHAT'S NEXT FOR UMBILICAL CHORDS?
We've got a super busy summer lined up! We'll be doing a 2-day ambient/downtempo stage take over in the woods at Secret Garden Party in July. In September, you can catch us at Come Bye festival. We'll be hosting a stage that'll be catering to all the late-night revellers and from September 14th-18th will be the Weekender. After that we have plans in the works to put on a big night in London in early October, combining live music with DJs going into the early hours – so keep your eyes peeled for that. Finally, we like to do an end of year party in December with exclusively UC residents on the decks – these are always super fun!!
Alongside this we have some big plans for merch in the works so expect to see some UC branded garments appearing soon!