shame tell all on the eclectic music stylings of 'Food for Worms'. 
London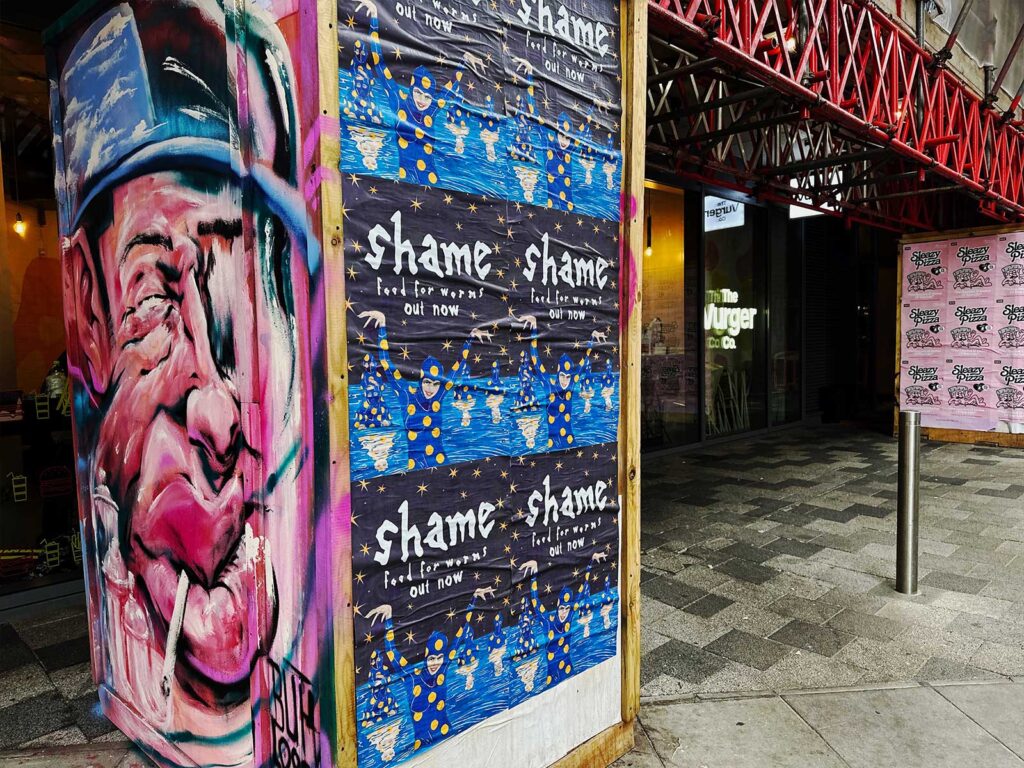 shame are a rough-and-ready post punk band and are back for their third time around, with album 'Food for Worms'. It debuted on 24th February after a slew of singles gave a taste to avid listeners, eager to hear what's next. UNCLE partnered with shame on the release by pasting their alluring artwork across their hometown of London.
Having established themselves on the scene of alternative music in early 2018, shame have only since grown, having become a force to be reckoned with. They have consistently appearing in cult music magazines NME, Clash and Pitchfork, and their previous album 'Drunk Tank Pink' was met with universal praise, peaking at number three on the UK indie charts.
The resurgence of modern post punk has eclipsed certainly the UK music scene for the better part of the last decade. However, shame have been more eclectic with their sound in 'Food for Worms' taking influence from the lyrical stylings of Lou Reed and the more melodic approach of German band, Blumfeld. It's a record primarily about friendship –and how have the fivesome grown together. They hope it'll be a welcome departure from overused subject of romantic love and tap into audiences on a different level.
Tha band have also just released a music video for 'Fingers of Steel', an irreverent take on the Information Age seeing the band create social media accounts to like their own content – an on brand jovial take on society. They band are set to embark on a European tour in the coming months, along with an American tour following that. See their website for full details of the tour and tickets.
To mark the moment for the album release we talked to drummer Charlie Forbes and bassist Josh Finerty who shed light over the growth of the group's sound, artistic choices and live shows.
HOW DID THE NEW 'FOOD FOR WORMS' COME TO BE?
Charlie – The summer of 2021, we got our own practise space, which we've never had before. So we were like thought we had a bit of time to write this album quickly and then we won't need to worry about it – and that didn't work. We almost forgot how to make music, we failed to write anything for a really, really long time, and I thought we'd forgotten how to write music altogether. That is annoying when you're trying to write an album.
Josh – Then it kind of just clicked, at the beginning of 2022. Our management booked in some shows for us in some small venues – like The Windmill – where we had to perform all new material, so the pressure is on and it kind of went there.
HOW IS THIS ALBUM DIFFERENT TO YOUR PREVIOUS ONES?
Charlie – It's less overthought than the second album, definitely more melodic, our most melodic album, there's a lot of group vocals and harmonies. We've embraced periods of actual space in music which didn't happen on the second where we just clogged up every single beat of every single song with 15 different sounds. We've tried to consciously have parts in the songs where stuff really comes down, varied dynamics.
WHY DO YOU TACKLE THE SUBJECTS YOU DO AND HOW HAS THIS CHANGED?
Charlie – The political stuff was early days, we're obviously still political individuals, but I don't know how much that comes through in the music anymore. We've left that behind and started talking about our feelings and emotions, we're men but we have feelings, and we want the world to know. It's [frontman Charlie Steen] Steens remit but I know he writes what's on his mind. It naturally comes through; he writes what he sees and feels. He was perhaps looking outward a bit more during the first album and then he started looking inwards. Obviously covid happened and everything became really introspective. This one's all about friends, it's primarily a platonic rock album.
HOW DO YOU DECIDE ON ARTWORK FOR YOUR RELEASES?
Charlie – We got lucky this time around, we got ahead of the curve with trying to sort it out, which didn't happen on the first two. We got in touch with this artist Marcel Dzama, is who our manager knows and went from there. We picked some of his pre-existing works that we thought would work well singles. It lined up quite nicely for us on this one, which was nice, as I said the previous were very stressy to get done.
Josh – The first two were very DIY, it's nice having somebody who has their own style, that we can build our own world from, and it feels adjacent to the music. We made a decision and wanted something cohesive and wanted somebody to have their way with it and usually we've very different people and we have very different tastes, and we had to try and find some sort of middle ground. You have to trust in one vision and put it in someone else's hands sometimes.
WHAT DOES MUSIC MEAN TO YOU?
Charlie – I didn't like any music, there wasn't a single song that I liked until I was ten or something. But then I heard Franz Ferdinand – 'Do We Want To' in an advert for 'Foster's Home for Imaginary Friends' on Cartoon Network. I'm very grateful that I get to do it every day as my job, very lucky boy. I don't know – it's just about rocking out and feeling fine.
Josh – He's joking but it's true, it's that rock n' roll feeling.
YOU'VE USED THE PHRASE "WRITING TO PLAY" IN THE PAST, DO LIVE SHOWS IMPACT THE WAY YOU THINK ABOUT MUSIC CREATION?
Josh – I think that's how we approached this album especially. The way in which we wrote this album was very different to how we wrote the second – 'Drunk Tank Pink' we had a year off touring, we only did festivals, and we used it to hunker down in a make-shift studio in my parents' house. We recorded everything very separately and we didn't really have any live shows to test out the songs on. But when we first started, we'd have a gig booked for the next week and we didn't have enough songs to play. So we'd just box something out and get it ready so that it wasn't super embarrassing. As Charlie said that's exactly how we did this album. So we puddled together and wrote in a very insular way.
HOW HAVE YOUR LIVE SHOWS CHANGED OVER THE YEARS?
Charlie – I think the set is a bit more thought out in terms of ebb and flow, we try to keep things moving in a fresh way. The way in which we play them hasn't changed all too much, it's just now a bit more considered.
Josh– There's still an energy to it, which we've carried over. We are very happy to do a small set, like we used to, where we'd slap something together and in a way that's better than something really thought out, but you can get carried away.
WHAT'S YOUR FAVOURITE LONDON GIG VENUE?
Charlie – The Queen's Head, which is just round the corner from the [Brixton] Academy, and the Windmill of course, where we have played roughly 60,000 shows, each better than the last, apart from a few duds. I'd say the Windmill is easily the most important building in the whole of London or maybe in the whole of the UK in terms of new music. It's just incredible, that's where we did the new material shows for this album.
WHAT'S YOUR FAVOURITE SONG TO PLAY LIVE?
Charlie – I like 'Tasteless', 'Tasteless' is a banger, it's always good live, it's quite simple but it has a catchy hook at the end, that repeats over and over, it's primal.
JOSH – I really like playing the song 'Adderall' which is a new song like about to release. It starts off really slow, and it's this much needed rest bite in the set, but it has a big climax and payoff. People always are trepidatious when it starts, they think it's mellow, but then, by the end people are won over with it and say it's one of their favourite songs from the set.
WHAT GOALS DO YOU HAVE FOR YOURSELVES AS A BAND?
Charlie – The most albums sold of all time would be good.
Josh – To play some wonderful shows with some wonderful people and just have a great time making friends across the across the globe. Oh and have some fun that would be great, that's kind of where I'm at with it.
HOW DO YOU WANT TO BE REMEMBERED MUSICALLY?
Charlie – Maybe in 30 years someone in a pub will say – "Do you remember that band shame? I saw them once, they're pretty good live" – that'd be alright, I wouldn't mind that.