JUST BE NICE by Real Hackney Dave – a positive message that transcends perceived boundaries
London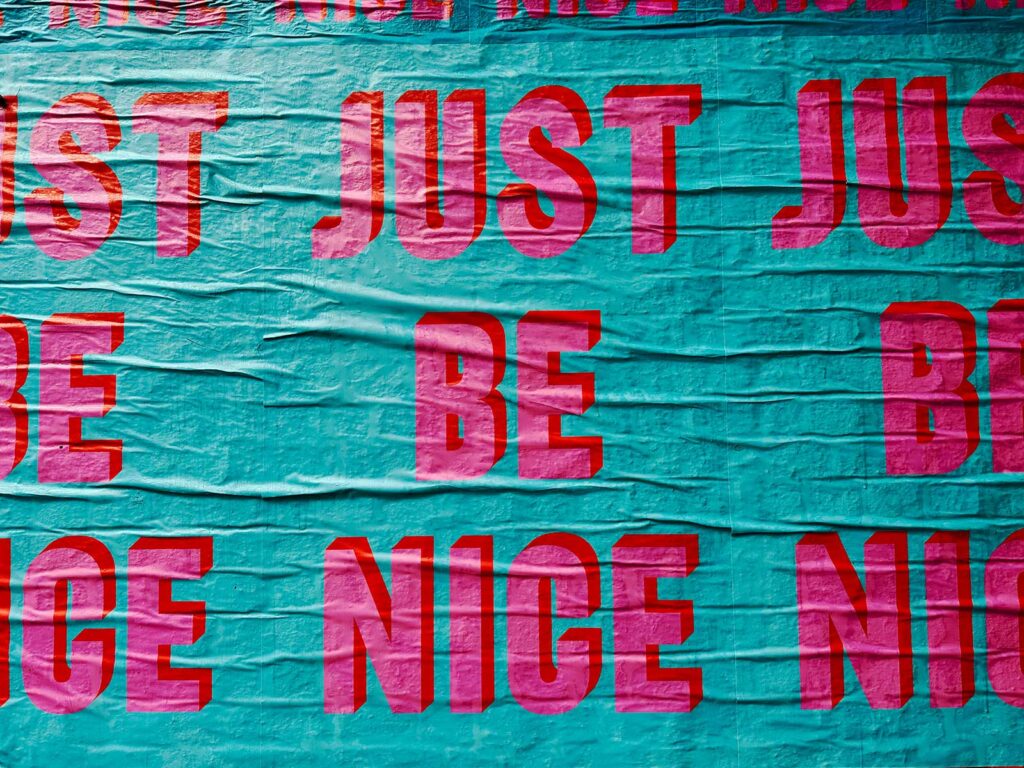 UNCLE are hitting the streets with a no-brainer message for the festive period. Artist, printmaker, motorcycle rider and Jaffa Cake connoisseur Dave Buonaguidi has supplied a version of his kindly classic JUST BE NICE poster for us to spread far and wide on walls around the U.K.
After decades spent in the clasps of advertising, Buonaguidi – AKA Real Hackney Dave – found a new calling: that of the humble screen printer. It's a process superbly aligned with the artist's fondness for mass communication techniques, propaganda and making work that stirs a reaction.
But in Buonaguidi's case the printing is anything but humble. Bombs, photobooth pic.s, ordnance survey maps, postage stamps, vintage love letters… You name it, he's printed on it. And in mediums ranging from pheromones to glitter, sprinkles to gold leaf. "I love to work with found images and materials, experimenting with the practice of screen printing to push the boundaries of what it is and can be."
Promoting Buonaguidi's bright and bold type JUST BE NICE poster is a double no-brainer as it's also the title of an auction and show in aid of The Big Issue magazine. East Art Gallery is hosting the event where a profusion of brilliant artists have made works that riff on the JUST BE NICE template. Over sixty superbly diverse pieces are featured, in Buonaguidi's words, "The work is insane, I am humbled by all the artists' talent and generosity."
We know winter isn't a festive time of year for everyone. What with international conflict and injustice, climate fears, the cost-of-living crisis, homelessness, in-work poverty and the imminent Xmas Jaffa Cake shortage, JUST BE NICE is a positive, uplifting message that transcends faith, race, ethnicity and many another perceived boundary. Our thanks go to Real Hackney Dave, UNCLE are overjoyed to share his poster's warm sentiment as our 2022 seasonal greeting.