Women Life Freedom and the advocation for Iranian women's rights
London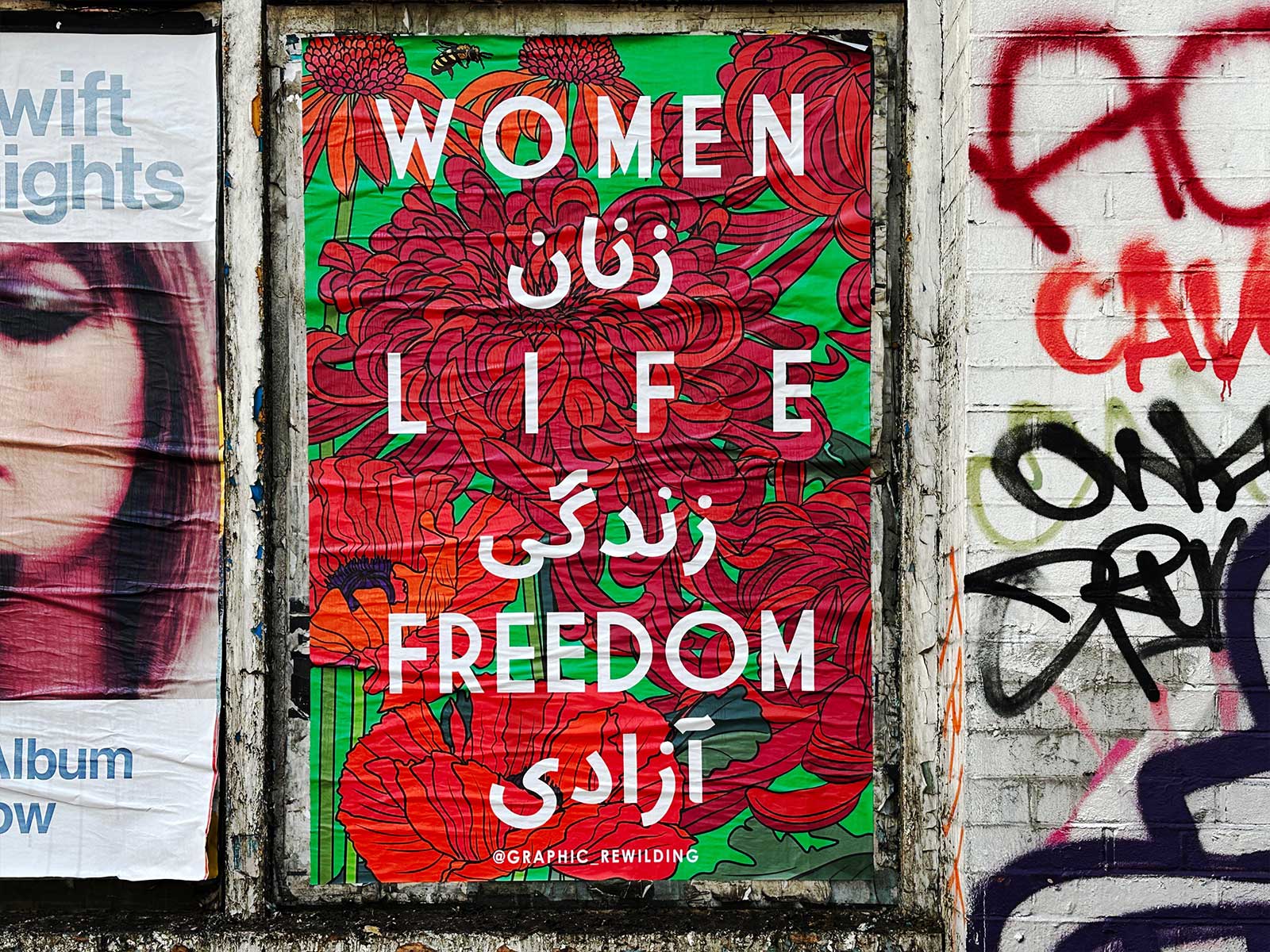 When Lee Baker (of Baker & Borowski studio, aka Skip Gallery, Graphic Rewilding, etc.) got in contact regarding their latest poster campaign advocating for Iranian women's freedom from social and political oppression it was a no brainer for UNCLE to support such a pressing and important cause.
In September this year – after 22 year old Kurdish woman Mahsa Amini died whilst being detained by Iran's morality police – girls and women across Iran have defied the draconian dress code: cut their hair, burned their headscarves and confronted the Islamic authorities and armed security forces with such bravery and determination it's been argued that this might be "the start of the end of the Islamic Republic."
The clarion cry, roaring defiance and demanding justice as women take to the streets in protest against the Tehran regime is WOMEN, LIFE, FREEDOM. Baker and Borowski have presented this phrase in English and Farsi using bold white type against red and verdant green flora. The glowing, ember-like cluster of asters, chrysanthemums, and poppies with their dark purple pistils is a fiery and foreboding background that propels the text's fervent message forward.
In recent years Baker and Borowski have created numerous exhibitions, installations and environments that have delighted, amused and entranced audiences. Their street posters, whilst being equally eye catching and sumptuous, are a more laconic means of communication.
In March 2022 they hit the streets with their PHONE YOUR MUM BACK poster: a work that addressed both moving personal issues and at the same time critiqued the commodification of motherly love. With the thunderingly salient WOMEN, LIFE, FREEDOM poster seeded into the urban environment we're reminded that across the globe human rights and civil liberties we often take for granted are being denied by cruel and undemocratic regimes.
We'll leave the last word to Baker and Borowski, "Collaborating with UNCLE on this artwork and helping spread the word about the tumultuous events in Iran, has been tremendously important to us. Lee's mum came from Iran when she was 15. She dated an Englishman in secret for a year, and when her family decided to return she stayed. But for fate, how different our lives would have been. Her children would be having to fight tooth and nail for freedoms people take for granted in the UK."