It's time to Feel Good Club in Manchester as the brand takes a leap into night life with new event 'Make Me Feel'. 
Manchester, Sheffield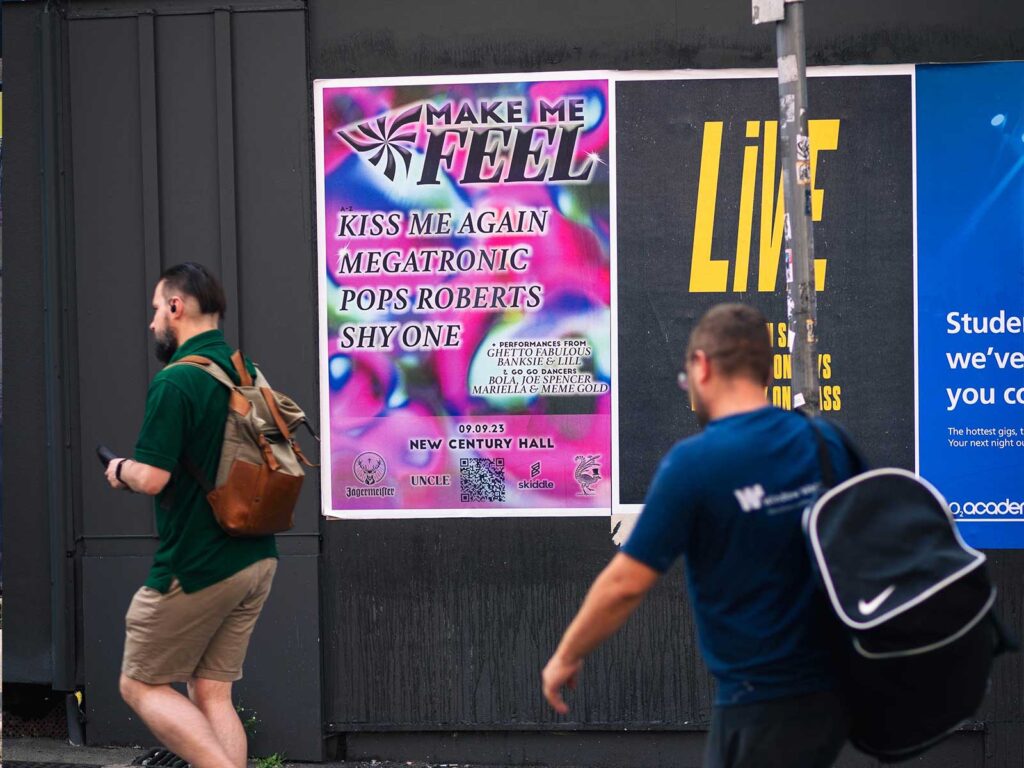 Manchester is home to the powerhouse Feel Good Club, a duo determined to spread the idea of self-love and creativity. UNCLE partnered with them as they undertook their most ambitious event yet, spreading the news of the night across Manchester and other northern regions ahead of the evening. The aptly titled 'Make Me Feel' took place at the historic music venue 'New Century Hall' and promised to deliver on a club night packed with "self-expression, connection and positivity".
The stacked lineup sees an inarguable mixture for a good time, featuring Kiss Me Again, Ghetto Fabulous, Pop Roberts, Shy One and Megatronic. Not to mention a plethora of drag acts that will keep tempos high throughout the course of the night. Attendees saw the "party with a purpose" not only create a safe space on the night but also make an impact beyond – a percentage of money from ticket and merch sales went to Mindout Charity, in support of LGBTQ+ mental health services.
Feel Good Club pushed further than they ever have before by curating this event, UNCLE wanted to delve deeper into the why, by discussing conception, direction and just how the purpose of the night plays an important part of what makes it special.
WHY IS THE EVENT NAMED 'MAKE ME FEEL?'?
Expanding on Feel Good Club. The name came from the idea of dancing as collective celebration and all of the different ways that music can "make you feel". We want this party to be joyful and celebratory but also cathartic, Make Me Feel represents that.
WHAT DROVE THE DECISION TO EXPAND BEYOND THE TYPE OF EVENTS YOU HAVE BEEN PUTTING ON INTO THIS NEW SPACE?
Feel Good Club is all about making people "feel good" about themselves. We do this through our content, billboards and in our physical space. Everything is created with the aim to bring joy.
We have been running events within the coffee shop space for quite some time and there was a noticeable appetite for something bigger, that goes on a little later. We wanted to create something where we could dive deeper into the nightlife with performance and music married with our brand ethos of creating spaces of connection & celebration.
WITH SO MANY COLLABORATORS ON THE LIST, TELL US ABOUT NAILING THE LINEUP?
The line-up itself was crafted with Feel Good Club's ethos in mind and we're so excited for what we've created. It feels really special to be able to build and share this space with such an amazing group of artists. It was important that the people on-stage reflected the intentions of this party, authentically and with purpose. We were super excited to blend Manchester club scene heroes with some incredible acts from other places in the UK and beyond.
If you look into what each person on the line-up does for communities, artistically and otherwise, you'll see that this party is a melting pot of a whole bunch of wonderful and super talented humans.
WHAT IS THE PURPOSE OF THE NIGHT?
To simply fill a room with people to celebrate themselves and each other. A tag line for Make Me Feel is "where party meets purpose"; 50% of the profits made from the event will be going directly to MindOut Charity.
TELL US MORE ABOUT THE ARTWORK?
The artwork was created by using images we'd taken during a promotional video shoot at the venue itself. The purples, pinks, greens and blues were all picked out from colours of the amazing light rig they have there. When people are twirling around on the dancefloor the background of the poster is what they'll see. The triangle symbol is a riff on the adopted pink triangle symbol of Queer Pride & Power used by trailblazers like Act Up, so that was a nod to Queer History.
HOW IS THIS EVENT TIED TO THE CITY OF MANCHESTER?
Make Me Feel is an extension of the brand and venue that's born and bred in Manchester so it was only right for our first foray into nightlife to be in our city.
The line-up features some Queer Manchester icons, Kiss Me Again and Ghetto Fabulous for example, who are such rays of light in the Manchester club scene and have really paved the way for a lot of the things you see flourishing here now.
Also, the event is housed in the incredible New Century Hall which has an amazing musical history for Manchester. It's newly refurbed and reopened so it's super exciting that we get to bring an event to somewhere that's featured some absolute legends like Tina Turner & Jimi Hendrix.
We're so excited for the first one to happen in our home, but maybe we'll take it further afield in the future.
WILL THERE BE MORE EVENTS IN THE FUTURE?
Without a doubt.