Artist Adébayo Bolaji exhibits a show in Berlin championing the voice of the collective for a worthy cause. 
Berlin, London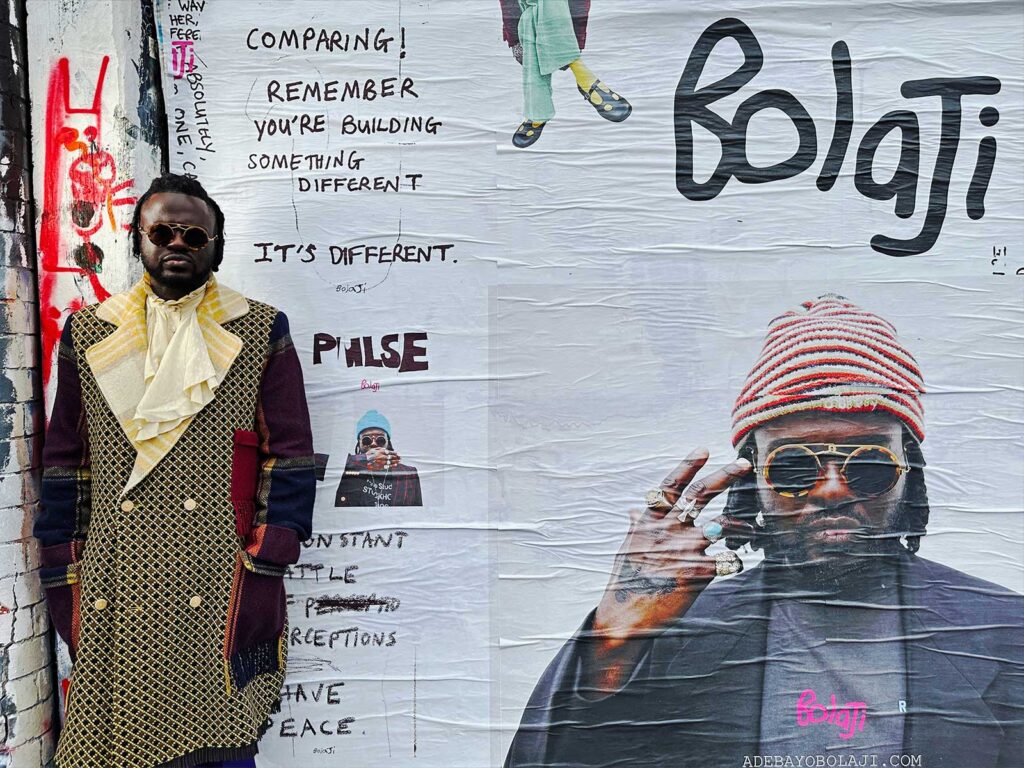 Adébayo Bolaji is known for his abstract and vivid artworks, designed in a multitude of media types and borne from a desire to represent the individual – in hopes to transform the masses. This focus allows his pieces to connect with onlookers on a personal level, begging to be unravelled thematically. Intimacy is a tool in which messages can relay most effectively – a thought not lost on the artist.
Although London is his home, Bolaji is an international spirit who has been able to create a name for himself on a global scale. His upcoming Berlin based exhibition 'To Speak Out Loud' homes in on police brutality borne in the Nigerian rebellions, a cause close to the heart of Bolaji thanks to his heritage.
The show, in his own words is "the first show where the reason for it was the closest to me. I was born in London but have Nigerian heritage and, I also have experienced so many times where people have tried to tell me who I was, who I am… it's a constant battling process even as an artist. It's a meditative show, highly reflective on this idea of the voice.".
UNCLE ran a campaign in the showcase city Berlin as well as his home of London to bring eyes to the campaign as well as support his artistic achievements. Alongside this we took images of the artist with his piece in the heart of Shoreditch, his artistic core easily readable through the way his character translates through the images. We also chatted with Bolaji to dive deeper into his own mindset and bring context to an exhibition that stands for so much.
YOUR ARTWORK IS DIVERSE ACROSS THE BOARD, HOW DOES INSPIRATION STRIKE TO MOTIVATE YOUR CREATIVE PROCESS?
Anything that gets me to ask "why", to ask questions. Staying curious. It really doesn't matter what it is, although ultimately, I've found that somehow the questions, I ask are rooted in the bigger idea of what I feel my purpose is, which is connected to a vision that I have for my life. So, there is something that is pulling me forward all the time, my vision, but along the way, I will encounter things that somehow cause me to ask, why, how or what, these are real inspirations because they cause me to grow and develop in light of this vision. It's too easy to just say something like "music" because it's not just the music is it.. it's also something about where I am in that moment, it's not the thing on its own.
WHY WERE YOU DRAWN TO THIS ARTISTIC PATH?
I feel that at some point I just had no choice. I grew up living other people's ideas about who or what I should be, and then eventually frustration revealed itself in so many ways I had to give in to it. I already had a creative background from theatre and film but, I wasn't aware that my body was telling me it already had a natural way that it wanted to communicate artistically through painting… by expressing my own ideas and not that of others. So, I had to pause, stop and listen, which practically meant just doing it, to first just paint, and to keep doing the thing itself in any way I could. I also spoke to people who were more experienced than I was about how I might constructively sustain and keep communicating my ideas, take their advice and then, adjust it to what I saw in my mind… my vision. It was also important to know that we shouldn't be afraid to ask questions and speak to others but also to remember why we started, so to find out what you believe in, so that doesn't get lost along the way.
WHAT DOES YOUR DESIGN PROCESS LOOK LIKE?
Ultimately, I am asking a series of questions, something will instinctively make sense to me, so I put it down first not because it's right but because it's the first thing I need to deal with, it's also a sense of play. So, there are no restrictions just at first… feelings. I deal with how I feel. I then play with this feeling, but it is really a game, because in the back of my mind I know it's for something it's for a particular time and space. So, the game is catered to a space, so the real first question is, what is this space and what does it want or need. If the space didn't exist, then it doesn't matter what I do… and if it is about creating a new space I am still asking why. This may not happen with words or direct intellectual reasoning… practically it could mean I draw a circle, and then see what that tells me. In the end I'm looking for harmony, I'm not pushing harmony, it already exists (nature teaches me this)… so I'm just looking for it.
WHY DO YOU DRAWN TO TACKLING SUBJECTS ON THE INDIVIDUAL?
Because they are the ones that bother me the most. There's a saying that if you're confused about how to find what you love, find out what bothers you the most. I'm frustrated and care about the individual. How we hide, overthink, worry when we don't need to. Crush our own voices… things like this. Everything for me is purposeful especially people, and so I feel somehow that my work likes to honour the fact that people matter.
THROUGHOUT YOUR DESIGN CAREER YOU CAN SEE THE SHIFTING AND GROWTH IN TERMS OF STLYE. HOW HAVE YOU REFINED YOUR STYLE?
Be giving it love and attention. By seeing obstacles as part of the journey. I know it's cliche but, things are made stronger because of obstacles or "blocks" it's in these moments that you find out who you really are, what you really stand for or believe in… you hear and see yourself. Knowledge is also crucial, I can't stress how important it is to look for knowledge, if you don't know something, look for the answer and when you find it, it's no longer a blind spot and then you are no longer the same, your voice is different.
COLOUR IS A THEME THAT HAS CONTINUED TO BE PRESENT IN ALL YOUR WORKS, WHY IS THIS – DOES COLOUR MEAN A LOT TO YOU?
It's everything to me, in fact it's how I enter all my work, with a line an expression of colour. It's a language I seem to gravitate towards, it's defining a lot of space and narrative for us as well at such a high speed we're not even aware of it… it's so powerful. So there is clearly meaning here. By meaning I mean a sense of something that makes you believe or not believe something, it makes you feel. Even if you ignore it, its presence is still made more valuable because of it being ignored. It was also very healing for me at first, when I started I needed a lot of colour, I needed a lot of healing to feel fully free. We wake up and have everything visually set in our lives. Colour says to me "now paint how you feel".
WHY IS THE SHOW TITLED 'TO SPEAK OUT LOUD'?
Again, it goes back to my idea of the individual who in turn makes up a group… this is important. The voice of one and the collective. The initial inspiration was the unfortunate happening a few years ago in Nigeria where young people were brutalised and killed for peaceful protests against Police Brutality in Nigeria, known as END-SARS. I was so moved by the courage, especially in an age where it's so easy to just be a "keyboard warrior -activist" … their voices mattered and they wanted the whole world to know it, even if they died.
EXPLAIN THE INTRIGUING ARTWORK DESIGN?
I like to use myself as well in a lot of my text work, it's very natural to do I don't question why, maybe it makes it more relatable for people, so I just do it. A pose is never "natural" is it, it's an idea of an idea of an idea and so on. So, I'm standing in a way I guess that suggests I'm here in this moment doing something that feels right to me. Not in a self-indulgent way, but one that hopefully is a powerful stance that suggests I am here, I have this one life and so I will be present and not hide.
WHAT'S NEXT FOR YOU?
Alongside my show in Berlin, I have my first public sculpture being erected in London, in the new Acton Gardens. It's a big piece and I spent some time with the community there too to get a sense of what this piece should be. It's titled: "The People's Throne" and is set to be revealed this October!