Sepehr Badiei tackles social change with their artwork in support of Iranian women.
London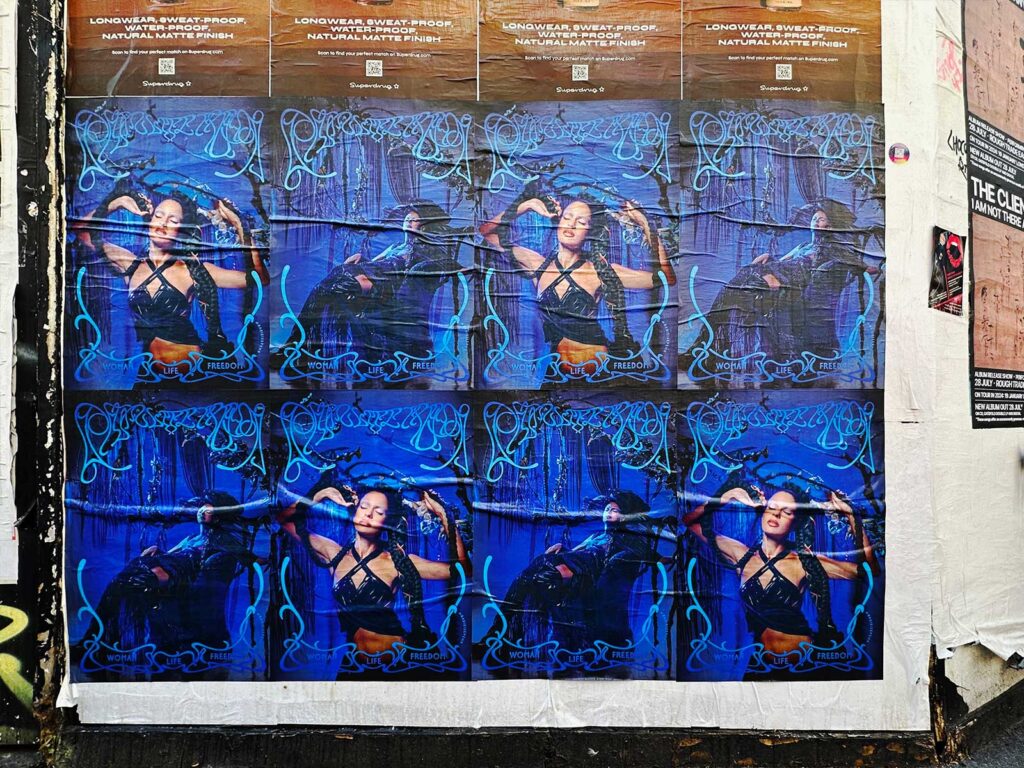 Sepehr Badiei has been causing a stir on the artistic scene for the course of their career. The zeitgeist has been an ever present force amongst their work, utilising their own experiences within a world laced with prejudice. UNCLE partnered with Badiei in support of not only their causes integrity, but in the explorative nature of their creative process. The campaign is in support of the Women Life Freedom movement, borne of the Iranian protests. With the artwork hoping to inspire the support for progression – to lift the immense oppression that women face within Iran, especially during these uncertain times.
The artwork itself sees a light and a dark image – the orange blazing with flames to "burn away the dark of night" and purify with sacred heat, and the darker taking inspiration from a Persian tree of life symbolising reincarnation. The motifs are interpretations of culture, solidified in rich history that Badiei combined with a modern flare, paying homage to their heritage whilst feeling relevant in today's artistic climate.
UNCLE got enlightened on the hardships faced by Badiei and how their beginnings have shaped and given their art momentum, as well as learning about their creative past and upcoming future with an interview.
WHAT INSPIRES YOU?
Everyday people, my friends, the community you build around you and current affairs.
WHY DID YOU GET INTO ART AND WHAT DOES IT MEAN TO YOU?
To make a change on beauty with depth. Art evokes emotions and brings communities and cultures together through creative expression and communication
WHAT IS YOUR FAVOURITE PART OF THE CREATIVE PROCESS?
I love daydreaming and sleeping but my favourite part of being creative is making things moulding things and making a mess with my hands. .
HOW HAS BEING LGBTQ+ IN THE CREATIVE SPACE CHANGED FOR YOU OVER THE YEARS?
Growing up in New Zealand was a bit hard, as I faced both racism and homophobia during my youth. However, being part of the queer community with friends and working within the creative industry has made things less difficult than before. Yet, I still face my own unique challenges as an introverted nurturing Cancerian with a Leo rising for strength.
HOW HAS BEING LGBTQ+ AFFECTED YOUR ART?
Embracing my queerness enables me to be more receptive to diverse gender identities and rights. As a result, I find it easier to connect with issues related to women's rights, transgender individuals, and youth which comes through in my art.
WHO ARE SOME ARTISTS YOU ARE ENJOYING THE WORK OF CURRENTLY?
I love Dominic Myatt paintings, their artwork is endlessly captivating with its fluid and abstract nature, ensuring boredom never finds a place in your mind. Also, Shannen Maria Samuel – her garments exhibit an artistic, sculptural fluidity that complements the contours of your body. Morgan White and his photography captivates simplicity and cinematic essence. Would love to have a spacious location to showcase Morgan's artwork.
HOW HAS YOUR HERITAGE AFFECTED YOU?
Well Iran and Egypt have rich and diverse cultural heritages and being born during the revolution and war has a unique blend. It has influenced my identity and perspective on the world fostering a rich understanding of different cultures.
TALK US THROUGH THE DESIGN OF THE POSTER?
The posters represent various aspects of Persian culture. The blue image symbolizes the cypress tree, representing eternal life and reincarnation. The orange image represents fire, signifying purity for Zoroastrians. The design used in the posters is inspired by art nouveau, this was the time for new woman to emerge. The graphic design was by Oliva Joi Rawlings.
WHAT IS THE THING YOU LIKE MOST ABOUT BEING AN ARTIST?
Limitless art forms. Freedom in creativity. Expression through different mediums.
WHY DO YOU TACKLE THE SUBJECTS YOU DO?
I love current affairs. Learning to engage in discussions contribute to positive changes and navigate ones.
HAVE THE RECENT EVENTS IN IRAN IMPACTED YOU/YOUR WORK?
Emotionally heart crushing to see how the Iranian government treats their own people when watching news platforms.
DOES YOUR HERITAGE PLAY A ROLE IN YOUR ARTISTIC PRACTICE?
Yes, the influences of my heritage and surroundings shape the way I approach my work a supportive community, rooted in heritage and friendship.
WHY DID YOU WANT TO COLLABORATE WITH UNCLE?
We bring a modern touch, together we create, bringing our talents and skills to life, with our minds and hearts aligned we produce works that shines, a bond formed, a partnership truly divine, best UNCLE anyone could ever ask.
WHAT INFLUENCED THE DESIGN?
The design of the Cypress tree motif makes a majestic statement in the design symbolising the tree of life, draws inspiration from diverse sources such as the hair of women from various nationalities and trans women. By incorporating these different hair types, the design aims to foster a sense of harmony and unity among people of different backgrounds & nationality's
WHAT'S NEXT FOR YOU?
In my upcoming series of work I plan to explore is the future of climate change and the fashion industry, examining its effects on mental health and well-being from a marketing and psychology perspective to deepen our understanding of this important issue.
Life on earth.