How the impact of a worldwide campaign made the difference for fashion brand Horrox. 
Amsterdam, Barcelona, Berlin, Chicago, Los Angeles, London, Melbourne, Miami, Milan, New York, Paris, San Francisco, Sydney, Tokyo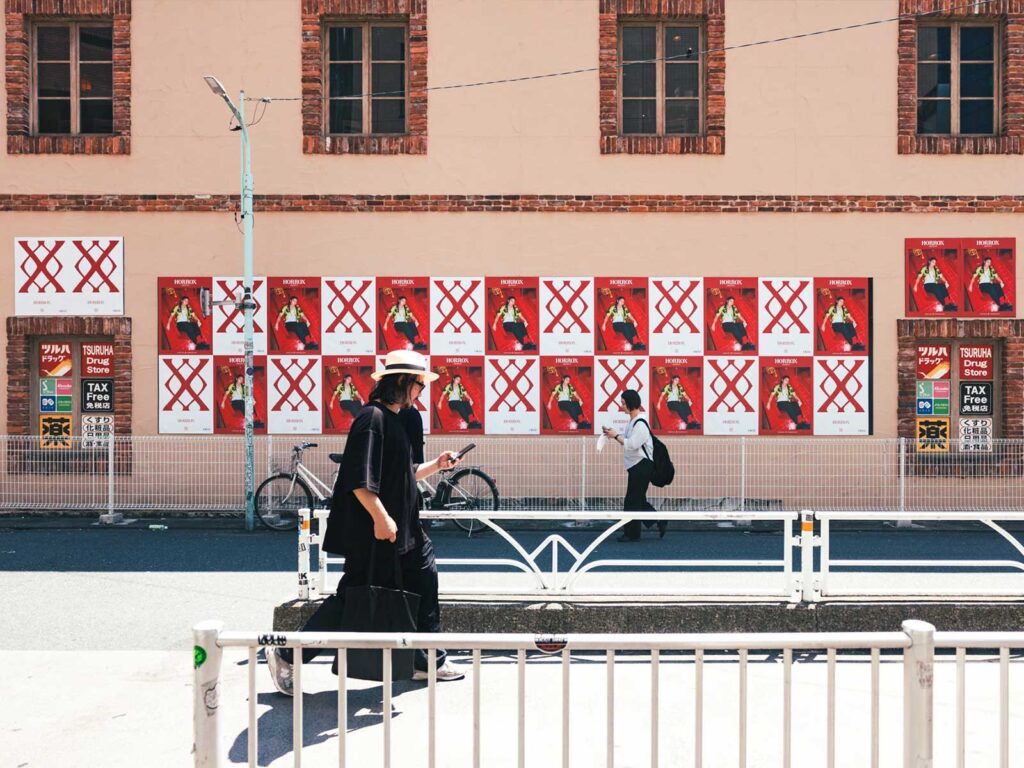 Horrox has been hotting up the fashion scene with a poster campaign popping up internationally courtesy of UNCLE. Our continued partnership with the androgenous clothing brand seems an opportune moment to home in on the effective and varied methods UNCLE uses in cities worldwide to create campaigns worth talking about.
London is the foundation of UNCLE's existence; we were borne in the rebellious beginnings of the fly format, it's our roots. Our mindset for our home market tends to be 'go big or go home', using all our format types to create a high frequency and saturated campaign across the city. Whether that be three billboards in a row for a street takeover or a paste up to play with a unique square creative, Horrox took advantage of all this city has to offer.
European markets themselves each carry with them individualistic elements that are iconic in their own rights. Amsterdam always makes for a campaign that transitions to the digital well, being a city so instantly recognisable, our sites work wonders across social channels. Barcelona, a sunny haven where pillars cut through crowds, high foot traffic are always on the cards for those who are displayed here. Ever the crowd pleaser is Berlin, a sought-after mecca for brands that like an edge, our sites have an industrial feel, and this grittiness certainly added a sense of intrigue to the Horrox campaign itself. Milan – one of the world's fashion capitals – it's sunny streets and refined site design always lead to a clean looking outcome for campaigns, a favourite of brands going for class. Finally, we have Paris, whose arguably most important feature being the context that comes with it – all things fashion needs to have a presence here. A combination of these cities made a unified stamp across the continent for Horrox and built brand image in alignment with each city's perspective.
Let's not forget our overseas cousin America – a beast that brands always want to conquer. The cities Horrox appeared in are all key players in the vast market that makes up the country. Whether the relaxed west side with Los Angeles and San Francsico – where your poster can be backdrop to a beach walk and golden sunset or the red-hot west side that offers a streetside catwalk in fashion hub New York or a fiery addition to Miami's iconic skyline. Horrox is a brand based in Brooklyn, and the campaign felt at home amongst its streets, UNCLE made sure to emphasize the homecoming with a focus on distribution surrounding the area.
Tokyo needs no introduction; the powerhouse city of the east has an unmistakable feel. Formats here are clean cut and perfected – an apt style that seems to reflect the general feel of the city itself. Due to lack of competition with advertising space, Horrox had no trouble standing out against the brutalist architecture. The striking red was a key colour in eyeline with all onlookers, working perhaps best on the digital screens that offer a distinct look that posters cannot replicate.
The true definition of global includes that of Australia; laid-back and homegrown posters here feel part of the woodwork and have no trouble looking like they belong. Sydney makes for a city that offers a casual edge that capitals tend not to include, this only grounded the Horrox campaign and approachability is important within advertisement. Whereas Melbourne delivers on locations that are unmissable, want to be noticed? Melbourne is the one for you if you want eyes down under.
Every city offers its own opportunities, and if you can align yourself with the pulse of that city you can appeal to its onlookers. Horrox was at home in all markets, reaping the benefits of the cultural markers and standing out amongst the grey.