One Game from Goal Click and UNCLE celebrate the power of football in communities
London, Paris, New York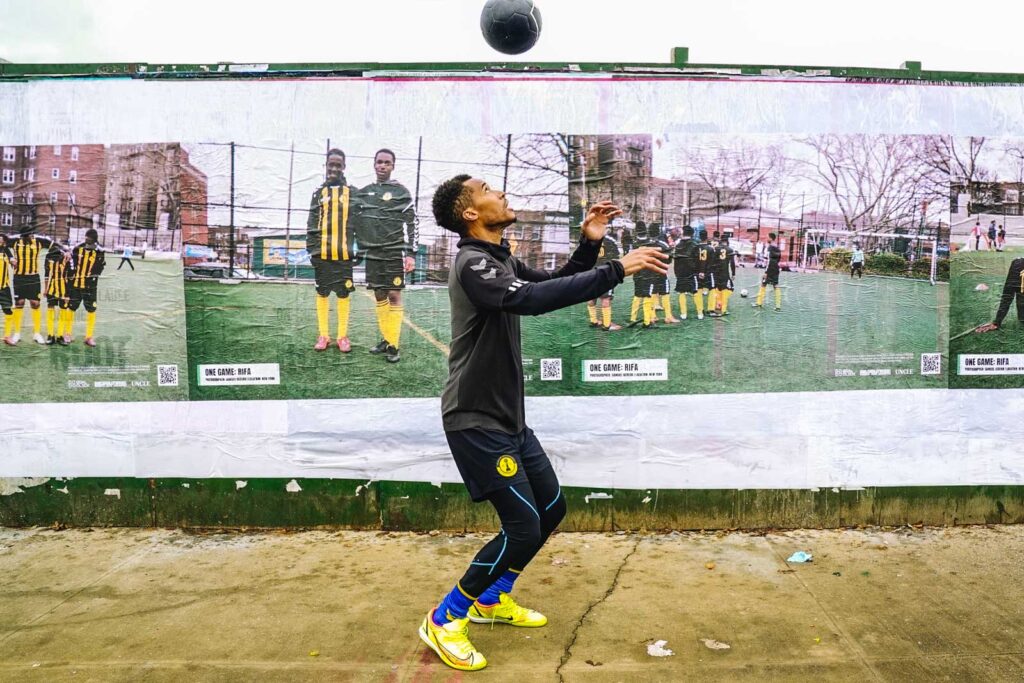 With all eyes on football this month, UNCLE have teamed up with Goal Click on project One Game to celebrate the unity football can bring to communities across the globe. Goal Click are an international football storytelling organisation who specialise in bringing real stories to light via an assortment of mediums. UNCLE have collaborated with Goal Click to show how football can be used as a force for good for people across the globe. We have adorned our poster sites with beautiful photography showcasing extraordinary stories that exhibit the true power of the beautiful game.
Project One Game is bringing visibility to the movement worldwide; Goal Click have provided important stories that range from the USA to Europe. Across UNCLE's three poster designs we showcase Maria Romanchenko, Fatima Rouina and Samuel Gedeon. We wildposted their respective cities – London, Paris and NYC – with imagery indicative of the countless ways football can fit into the lives of many. Football is the most popular sport in the world, but not every game is played on a pitch, and it is this flexibility that allows the sport to touch so many. The stories told by One Game hope to portray this range and the transformative nature of the game.
Maria Romanchenko is a Ukranian refugee now living in London, she played at a professional level in Odesa, Ukraine. Football has shaped who she is, playing a formative part of her settling into her new home – "Football gave me a lot: friends, endurance, character and determination. This is something that I will never tire of doing. With the help of football, I maintain my physical and spiritual health".
Fatima Rouina champions the beauty and freedom of street football, she is empowered by the versatility of the game – "Football is the place where I feel myself the most. I love playing on the street. There is freedom to play in the city. Football has this magic of being a sport that brings people together without borders. My friend Sarah was juggling the ball in a typical street of Montmarte area. You just need a ball to play on any type of field".
Finally, is Samuel Gedeon, a refugee originally from Haiti, and aspiring diplomat, who sought out Rooklyn (RIFA) – a disadvantaged youth charity that provide integration into New York City life through football – "I tried to show how passion for soccer has brought immigrants from different countries together and created a community".
We orchestrated a visit to their respective sites so they could see the impact that their story can have on the masses – reflecting the very ethos of Goal Click. The project is in partnership with BUILDHOLLYWOOD who have also set up sites exploring UK based communities. Please visit the Goal Click website to learn more about the positive impact they make and to read the full stories of those involved in the One Game project.