Fashion designer DragaDina leads a creative charge of experimental apparel.
Amsterdam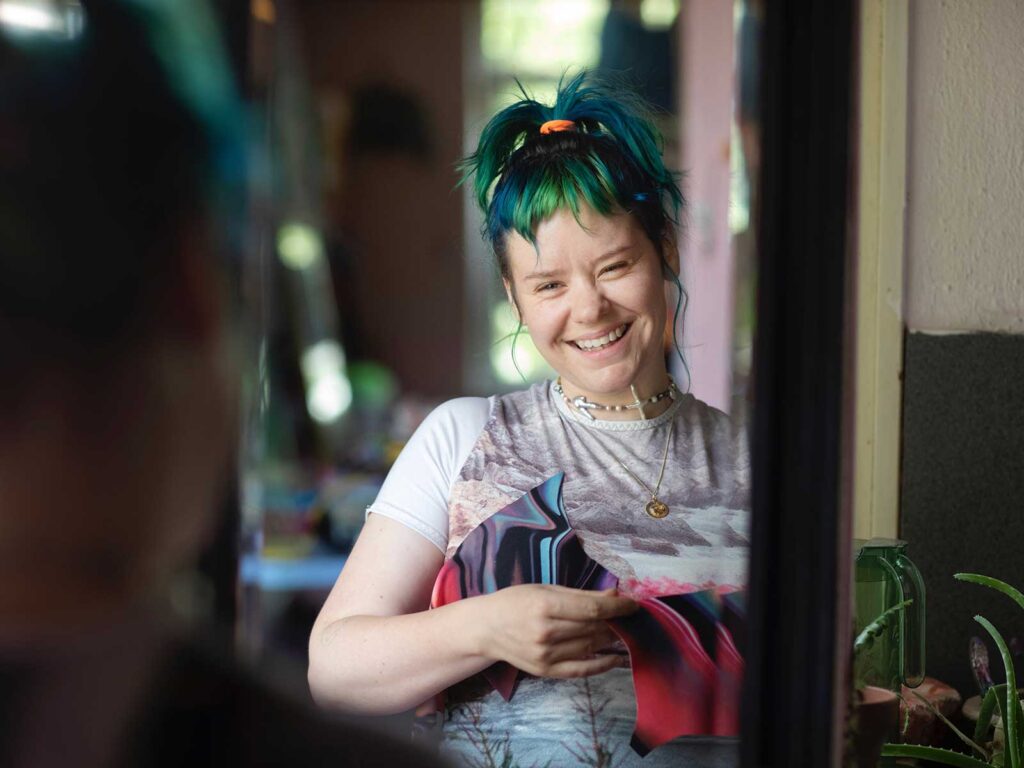 Amsterdam is a hub of experimental creativity; the unorthodox city seems to perpetuate innovations across it's streets and DragaDina is a brand that was borne of these conditions and flourished under them. It's creator Noortje Mulders is at the helm of the fashion brand's eclectic and experimental offerings, and the vivid clash of pieces makes for a truly unique collection. Her driving force being "I'd like to keep it playful and like to keep my intuition flowing. I make a lot of different things and try to create my own world."
Mulders has fashion running through her veins thanks to her grandmother who owned a fabric store, and from a young age this meant she was surrounded by material and inspiration. This led to a quick development of a passion for all things style, it felt only natural to her to remain within a textile space. Her interest in offcuts and pulling fabrics that are low in quantity ensure her pieces continue to develop and remain one of a kind.
The brand DragaDina itself is focused on positivity and self-love – "I love to work with people who want to express themselves, helping them feel comfortable in their body by creating what we feel or how we want to feel." Her designs aim to shape around the body, taking advantage of its natural lines and curves, so that the clothing works in harmony with the body rather against it.
UNCLE partnered with Noor to give a platform to her skills and valuable design mindset. There is nothing more iconic to Amsterdam than the canals, so we got up close and personal with the life blood of the city by pasting columns for DragaDina alongside them. Then we framed her collection defining creative throughout the rest of the city to dominate the streets. We've interviewed Mulders to explore the beginnings of her brand and understand her thought processes more; in doing so we got down to the grit of her passion and brand ethos.
WHAT INSPIRES YOU?
I'm inspired by so many things around me which makes it hard to pinpoint what exactly sparks my interest. I try not to think too much, which is difficult because I'm always overthinking.
I find inspiration from nature, old runway shows of the 80's, 90's, 00's I like to look up clothing from renaissance era and research what kind of techniques were used. I find change inspirational; I don't want to be afraid of change, I try actively to keep changing.
HOW DID YOU GET INTO FASHION?
My Grandma and Mother were a big influence. My Grandma used to own a little fabric store, so working with textiles runs in the family. My Mom made me birthday dresses every year, this gave me the freedom to choose fabrics and ideas on how I wanted the dress to look. This inspired me as a child to be creative through clothing.
WHAT WAS THE FIRST THING YOU CREATED?
I started making clothes for dolls and Barbie's with help from my mother and grandmother, but I think my first real item was a bag. I didn't like regular bags and thought they were a bit dull. The construction of the bag wasn't that great, and it couldn't even hold books. I had to repair it often, but it gave me a lot of confidence in my creative abilities. I also created accessories, like bracelets or hair accessories, all different types of items to express myself through my looks.
DESCRIBE YOUR DESIGN PROCESS?
I usually start by finding fabrics first. I prefer to find second-hand fabrics from online marketplaces like Marktplaats. Since there's a limited amount of fabric available, this helps me create unique pieces.
I don't really draw what I envision in my mind on paper. Under the sewing machine I sculpt the pieces together and what I see in my mind comes to life. After many years as a textile artist, working with the sewing machine has become a reflex and habit. As a child, I used to play in my grandmother's fabric store, combining textures and colors, which helped to create my intuitive making style.
WHAT DOES FASHION MEAN TO YOU?
Fashion is a way for me to express how I feel. It helps me to be confident in my skin and with my body. It also helps to attract me to likeminded people. I really enjoy helping people express themselves and feel comfortable with their appearance.
WHAT IS THE THING YOU LIKE MOST ABOUT BEING A DESIGNER?
I see my designs as an extension of myself, and that's why I enjoy exploring certain characters/personalities within me. People think I dress this way to stand out, but that's not it. Clothing is a way for me to express my inner self. In my projects, I often strive to create an immersive experience. I want the outfits to fit into their environment. My work creates a space where I fit in, in a world that doesn't always welcome me.
HOW HAVE YOU REFINED YOUR OWN PERSONAL STYLE?
I enjoy playful and revealing outfits that evoke a sense of sexiness but are adaptable to diverse body types. Vibrant colors and print combinations to create a femme atmosphere where everything or anything goes. My inner child comes through in the way that I create designs and in the final looks.
DOES COLOUR MEAN A LOT TO YOU? WHY?
Yes, it means a great deal to me. Color combinations truly inspire me, I find them in nature and organic material such as tropical frogs, mushrooms and flowers. Sometimes I discover these combinations outdoors, and other times I find them online. I print out references to make inspiration books where I overwhelm myself with options.
WHAT ARE SOME OF THE CORE DESIGN ELEMENTS OF YOUR CLOTHING?
Exposed stitching and seamlines, usually you want to hide it, but I like to show the construction of the outfit. Secondly, fit is very important to my designs. I love it when the clothing shapes the body to embrace your curves rather than hide it. It's extreme in a way, vibrant colors and patterns. It's also a filter for attracting people who are excited about expressing themselves through clothing or artists in general.
HOW DO YOU EXPERIMENT WITH TEXTURE?
It's a very natural process and I don't really think much about combinations. I try to experiment through the items I see and use them in unexpected ways in my designs. I do not always know beforehand how it will work out.
TELL US ABOUT YOUR ARTWORK DESIGN? THE CREATIVE DIRECTION/IT'S MEANING?
The people who wear my clothing define my brand, and the community that is created when we are together. I love to work with people who want to express themselves, helping them feel comfortable in their body by creating what we feel or how we want to feel. My partner photographs all my work, he captures my projects, contributes to the creative direction and helps me with Instagram.
WHERE DO YOU FIND INSPIRATION IN THE CITY?
The market, on the street, funny stores, nightlife. I find my best little items for accessories or clothing at unexpected shops like tobacco or key stores. The differences in people, culture and items inspires me wherever I go.
WHAT DO YOU LOVE ABOUT THE CITY?
I love my friends also the diverse range of cultures and people inspire me. I live in Rotterdam now and try to travel as much as possible. Eventually I would like to move to the USA. I have lived in Londen, Berlin, and visited New York and New Orleans many times. I love all these different cities and the experiences there bring me something new every time.
HOW HAS THE NETHERLANDS SHAPED YOU AS A DESIGNER?
The ability and privilege to travel as an adult beyond my own hometown and be curious about the world has shaped what I create. My designs are about expressing yourself, about different people who respect each other and embrace our bodies. Because I learned about other cultures while growing up in the area of Rotterdam, I have always been excited and curious about other experiences and have seen different ways how people express themselves, how they are true to their inner self. That inspires me to do that myself.
HOW WOULD YOU DEFINE YOUR BRAND?
I'd like to keep it playful and like to keep my intuition flowing. I make a lot of different things and try to create my own world.
WHAT'S NEXT FOR DRAGADINA?
I have just finished a big project called "Busy in my minds" where I invited visual artists to co-create a new collection. Now that it is finished it made me realize I want to find more independent shops around the world where to carry my clothing. It would be amazing to have DragaDina on the road and create while I travel! My ultimate dream is to have a sailboat shop for a little while and design from there.