Artist Andrea Casciu – scary and sumptuous giant masks in Milan
Milan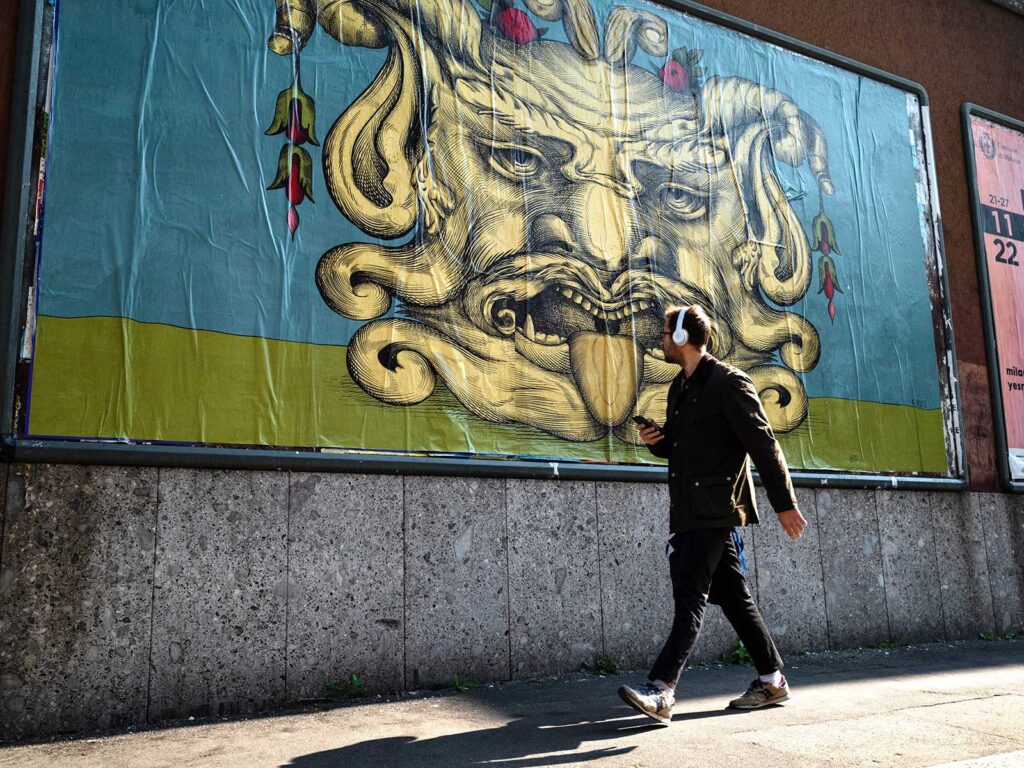 UNCLE are thrilled to be collaborating with Italian muralist and fine artist Andrea Casciu. His bold, fantastical, sometimes chimerical, always intriguing imagery affords both visual delight but it's also work that can pique viewers' curiosity on account of its seemingly supernatural qualities. Beautifully rendered on many an urban wall across Italy and beyond, Casciu casts a visual spell on viewers. Bold graphic, clearly 'readable' figurative elements – faces, objects, animals and combinations thereof – exert an extraordinary power to attract attention but at the same time there's enigmatic allusions to stories, fairy tales and myth. The stark, black and white, woodcut-like linear clarity is also complimented by a judicious use of colour. One thing's for sure, you can't ignore Casciu's enticing and striking work on the street.
So, what's the artist up to in Milan? Giant masks, that's what. Scary and sumptuous, dark burning gold-coloured grotesques, bigger than any passers-by, will peer out from city walls. Since ancient times, the practice of having grotesque carvings guarding one's dwelling place has been widespread in various cultures. These, often intimidating representations, were intended to keep away hostile spirits. That is, they were believed have an 'apotropaic' function, which translated from the Greek means 'to ward off', and refers to symbols, rituals and objects that are supposed to repel evil influences.
This is why imaginative representations of various kinds (monsters, legendary creatures, gods, etc.) are used for protective and superstitious purposes.
Etruscans, Greeks and Romans used to adorn the lintels of doors and windows of their dwellings with these figures, acting as powerful guardians able to create a barrier against any malevolent forces.
"The tradition of using apotropaic/grotesque masks against bad luck has travelled through the millennia, proving to be one of the pagan legacies that still survive today. In the Middle Ages, the apex of many towns' entrance arches featured prominent masks or grotesques to ward off evil. Still today numerous apotropaic heads can be seen in the doorways and windows of houses, palaces and churches: an architectural legacy of ancient peoples who believed in the positive power of masks."
– Andrea Casciu
The trio of Andrea Casciu's large scale gargoyle-like characters appearing on the streets of Milan promises to be a fabulous, weird and wonderful contribution to the cityscape.
WHAT GETS YOU OUT OF BED IN THE MORNING?
I embrace the famous saying, 'The morning has gold in its mouth'. [An equivalent, perhaps less poetic English idiom is, 'The early bird catches the worm'.] And so; I wake up early, coffee and off to work. The morning is very important for me because I produce a lot of work.
WHAT ARE YOUR EARLIEST MEMORIES OF WHEN YOU FELT COMPLETELY ABSORBED OR 'LOST' IN THE VISUAL ARTS?
In all honesty, I don't know exactly. As a young boy, I remember a trip I made to Barcelona where, at the Miró Museum, I was enraptured by a gigantic work of his made of fabrics and wool, when I think about it, it looked like a large textured mural.
WHO AND/OR WHAT WOULD YOU SAY HAS HAD A SIGNIFICANT INFLUENCE ON YOUR WORK? A PARTICULAR ARTIST OR ANY OTHER CREATIVITY THAT HAS IMPRESSED YOU.
There are many artists who have influenced my artistic career, going step by step the first was Picasso; then came Bacon; from a graphic point of view the great Andrea Pazienza. And from the first experiences of engraving classes there was Stanis Dessy (a great Sardinian engraver); the Flemish and the Germans of the 15th and 16th centuries but first and foremost Albrecht Dürer.
THE VISUAL LANGUAGE YOU USE IS OFTEN REMINISCENT OF WOODCUT PRINTING, WHAT IS THE ATTRACTION OF THIS TECHNIQUE FOR YOU?
The main attraction for woodcuts comes from its graphic sign, its visual simplicity, its colour; in fact, I am strongly attracted to black and white, it is an art that requires a lot of precision and, in my opinion, this makes it particularly hypnotic, both in its making and in the viewer's vision.
CAN YOU TELL US A LITTLE ABOUT THE MAIN THEMES OF YOUR ART?
I think that one of the recurring themes in my work comes from the representations of metamorphoses, the physical transformations of nature into man or animal and vice versa, are a source of great inspiration. For me, the study of ancient, illustrated texts, such as the bestiaries and medieval art, is fundamental, as their imagery gave great importance to depictions of myths and legends, with great reproduction and interpretation of fantastic beings.
THERE IS A MYTHOLOGICAL ELEMENT IN MUCH OF WHAT YOU PRODUCE, HOW DO YOU THINK THIS IS PERCEIVED BY PEOPLE WHO SEE YOUR WORK?
People are very attentive, often on the street, while you are painting, you happen to encounter passers-by, and they often give an interpretation of the work that you don't expect, many understand the message or the elements that I represent very well, indeed, they go on to interpret in a very lucid way themes that are unknown to them.
WHAT ABOUT ALLEGORY OR NARRATIVE, COULD YOU SAY SOMETHING ABOUT THE STORIES YOU ARE TELLING THROUGH YOUR ART?
An allegory I have been working on for several years now is the apotropaic function of certain subjects, who are often depicted as masks with the task and ability to keep evil influences and spirits at a distance and repel them. Many earlier civilizations adorned the lintels of doors and windows of their dwellings with these grotesque masks, sort of powerful guardians able to create a barrier against any hostile possibilities. From north to south these figures can be found everywhere, the legacy of ancient peoples who believed in the positive power of masks.
HOW DO YOU SEE YOUR ART DEVELOPING IN THE YEARS TO COME, BOTH ON THE STREET AND IN YOUR STUDIO?
Honestly, I don't know. It is a very intense period for muralism, many people wonder where and how this current will progress, it is certainly evolving, we will see how.  
A huge thanks from UNCLE to Andrea Casciu for his time and outstanding public artworks.