Where Your Really From rave creates a safe space for QTPOC without hesitation & limitation
London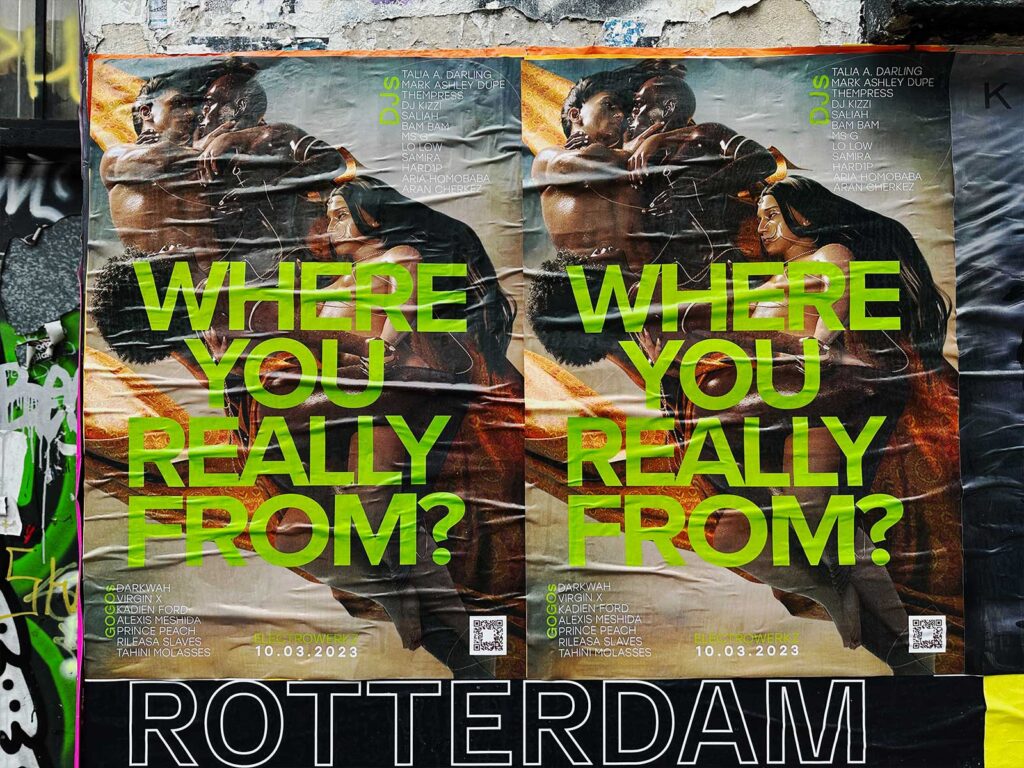 Where You Really From is a safe rave space for QTPOC; the event is designed to be a place "where we can be who we are and where we are really from, without hesitation and limitation…a new migration / vibration". The event will be held on the 10th March at Electrowerks and you can get tickets here. UNCLE showed solidarity with the cause by spreading word by pasting up Jordan Windows mesmerising creative.
London is a hub of culture and heritage, but even as we see diversity all around us there are still deep underlying issues that prevent society from being equal for all. In light of this, extra consideration must be taken to alleviate the dangers that come associated with being within minority groups. Creating safe spaces for all to feel free to let go are integral to breaking the cycles that oppress and this is why 'Where You Really From' is a welcome breath of fresh air within the rave space.
We spoke to key event organiser to get some deeper insight into the purpose of the night and what it means to the communities it aims to create a space for.
WHY IS THE EVENT NAMED 'WHERE ARE YOU REALLY FROM?'?
The term "where are you really from" is something that anyone of colour won't be foreign to (pun intended). As we navigate the world and queer spaces, we often experience exoticism for our culture or skin tone and posed the question 'Where are you really from?'. It's a statement that shocks the system for diasporic folk and we wanted to take back the term and re-envision it.
WHAT INSPIRED THE EVENTS CONCEPTION?

It's amazing to see such incredible spaces and parties host nights for marginalised cultures and people. Our team was approached by Electrowerkz to host a night for our specific community, and it was then when we realised maybe it was time for us all to come together and celebrate our similarities and experience our cultural differences. So wanted to hark back to 90's rave nights that had an amazing poster and used guerrilla marketing to spread the word.

We also wanted to host a late-night rave centred around QTPOC, often we are added to line ups to create diversity, but this time it's about being diverse to begin with.
HOW WAS THE LINE UP DECIDED?

Everyone on the line up is absolutely amazing at what they mix and the way they uniquely integrate their culture and sounds. This is a mosaic of London's best QTPOC Dj's who are regular headliners at major nights in London spanning all of fashion and culture. We wanted to bring them all together and create a new vibration for Electrowerkz.

The GoGo's (for lack of a better phrase) are amazing figures in our community who are redefining creativity and queerness. They are all icons in their own right and we wanted to have them at the party to be familiar faces and beacons of tomorrow.
WHAT IS THE PURPOSE OF THE NIGHT?

The purpose of the night is to have a space that isn't about photography and social media, a night that is underpinned by amazingly kind people who just want to dance and have a great time.
HOW CAN WE BE MINDFUL IN A SPACE LIKE THIS?

It's super important that we operate from kindness and create a very welcoming space. We recommend allies or those who don't identify at QTPOC to enjoy the experience but not 'take up space' and help support this array of talented Performers and artists.
TELL US MORE ABOUT THE ARTWORK?

The artwork was designed by Jordan Windows who is an amazing artist from Birmingham. At a young age they have already worked with some amazing people, and we thought this project would be a great idea to sink their teeth into.

We as QPOC realise that queerness was something natural in our cultures and communities until it was eradicated by colonisation – artefacts of this notion have been traced back to queer artwork that many of us refer to as a more liberated time. We thought it would be amazing to re-envision the historical queer art and have it encompass how we see our community today; truly diverse in every way.
HOW IS THIS EVENT TIED TO THE CITY OF LONDON?

London is an extremely creative hub, many people come here to find themselves as well as their community. Although the UK is incredibly problematic despite being a more welcoming queer city it's a starting place for change and events like this show our power in numbers and allow us to begin creating new experiences and conversations.
WHY ELECTROWERKZ?

Electrowerkz has been a main artery for rave culture for years and when they approached us to host a night, we didn't want to do something expected and wanted to create a new moment for our community as well as the venue. They have been extremely kind and accommodating so it's rounding out to be a very exciting moment for sure.
WILL THERE BE MORE IN FUTURE?

We'll see what the future has in store, but for now – Friday is where it's at.