Indie Sleaze of the 2000s brought to life in We Are Your Friends 01 by photographer Rebecca Thomas.
London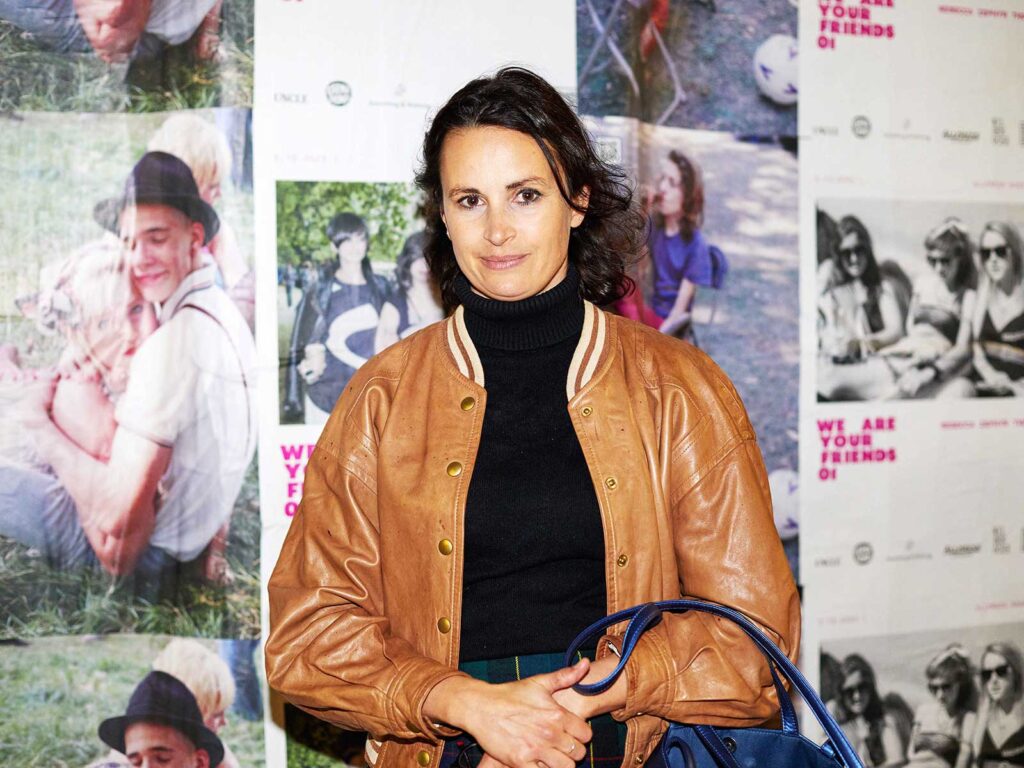 Documentary photographer Rebecca Zephyr Thomas has spent her career capturing candid moments in the hope of showcasing the power found in doing what you love. In her own words her work focuses on "connecting with people and telling stories about the passions that light us up as individuals. It's about finding what brings joy to the everyday and capturing that energy".
Her project We Are Your Friends 01 explores the theme of Indie Sleaze and showcases a collection of photographs taken in the late 2000s that seem to capture not only a certain moment of time, but also reflect youth culture of the moment via a feminist lens. Now making a resurgence as such, it is interesting to break down the Indie Sleaze time period and determine how it fits into society today as well as reflecting on what it meant then. Thomas is launching a zine designed by women run studio Wilden Oche that will feature the photography collection alongside a poster series.
We spoke to Thomas to discuss this as well as the impact London had on the collection and why now it was finally time to release the images. Along with this UNCLE used 4 sheet blocks to layer her images in key hotspots of east London like Shoreditch tunnel to reflect the locations that Thomas was concentrated in at the time. Featured in the images are some taken by Thomas herself with the original camera used for the series.
HOW DID THE NAME 'WE ARE YOUR FRIENDS' COME TO BE?
I wanted to give this project a name that tied back to the feeling I got when I first moved to London, and then a bit later to East London. I remember the Justice vs. Simian song 'We Are Your Friends' being in the background of a lot of my nights out in East London. It was like Marcel Proust and his Madeleins! This song makes me want to go for a drink in the Griffin pub, so it's a similar feeling. It was never a track that I would have listened to at home but it reminds me of the feeling that you get at the start of a night out when you're in your twenties and you have no idea what the evening will hold but it's probably some sort of slightly seedy adventure. The title also relates to the fact that most of the images of people in my wider archive are friends or at least friends of friends, many of whom I met on nights out.  
WHY DID YOU DECIDE THAT NOW WAS THE TIME TO PUBLISH AND HOW DID THIS COME ABOUT?
There's renewed interest in the style and pop culture of the 2000s, which is one part of it, also the changing nature of East London was a factor. Enough time has passed for this era to be of interest, the photos do show quite a different view of Shoreditch and East London, one before large companies and brands moved in and there was more of a sense of community. I'm working on a bigger project that covers 2005 to 2015 shot in East London, but it felt right to start with the documentary portraits of teenagers at The Underage Festival because those are the people who were really representing the youth culture of the time. It's so interesting to me to look back and see the little changes, the way people wore thick black tights to a music festival in the middle of summer for one thing!
DID YOU FEEL LIKE YOU WERE CAPTURING A MOVEMENT THAT WOULD SEEMINGLY COME REPEAT ITSELF IN POPULAR CULTURE?
I wasn't aware of this when I was taking the photos, but it's a natural cycle of pop culture, that ideas and eras come back into fashion. When I was a teenager I was pretty obsessed with the movie Dazed and Confused and the disco music of Studio 54, both of which are about the 1970s, not the current time I was living in. I think the culture of the past probably appeals to people who feel slightly cut off from whatever is the mainstream of the time.
WHY DID YOU TAKE THE SERIES OF IMAGES AT THE TIME?
I'd just started shooting for iD magazine and one of my first stories was about Sam Kilcoyne the festival founder and the club he ran for teenagers before the festival, so I already had an interest and some connections. I do remember that the second time I went, in 2008, I decided I mainly wanted to shoot female fans and musicians, and in the zine that I've created, it's predominantly female portraits. I was aware of the sexism of the music industry in the mid-2000s and I really wanted to shoot women in the same manner that male musicians were portrayed, and not sexualise them or make them look cute. The creativity that came from female artists in this time was almost overlooked or minimalised, but you could argue that the key artists of the era are Florence and Amy Winehouse, Pete Doherty might have got the press attention but these artists' music is what has lasted.
WHAT SPARKED YOUR INTEREST IN THE 'INDIE SLEAZE' MOVEMENT?
The 'Indie Sleaze' label is just something that's been attached to the time recently, nobody called it indie sleaze in the 2000s, it was just normal life! I wasn't a huge indie music fan even back then, I found most of the male indie bands incredibly cringe even then. I do like the way that indie sleaze is based on cheap fun and that it's a relatively democratic look that's easily accessible.
DOES THIS RESURGENCE OF THIS FASHION ERA BRING WITH IT ANY DRAWBACKS?
I think it's important to look a the wider significance of any time that's being revived, the sexism and misogyny of the 2000s are something that we should be looking to improve on now, this part of the era has been much discussed recently with the unsurprising revelations of Russell Brand's behaviour during the time. Indie Sleaze is also seen as a hedonistic time and that has its issues too, I personally wish I hadn't partied as hard as I did in the 2000s!
WAS THE DECISION TO PUBLISH THESE WORKS RELATED TO THIS RESURGENCE?
In a word yes, I want to put out work into the world that people connect with and that brings them joy, so timing is part of that. The photos in We Are Your Friends 01 and the Jack Arts poster campaign are about finding joy in the every day, they are images of people outside, in green space, connecting with each other through music, all of which is a primal human need! I hope that connects with people walking around East London and just enjoying these images.
WHY WERE YOU DRAWN TO DOCUMENTARY PHOTOGRAPHY CREATIVELY?
I grew up loving the work of Diane Arbus and Nan Goldin, two of the most influential female documentary photographers, I love the mix of gritty reality with the unexpected because that's what life is like! I also had a real dislike of the hierarchies of professional photography, I wanted to be able to shoot people in their own environments and really connect with the people in the photos. I find London and Londoners endlessly inspiring, I still do now. I love that eccentricity and individualism flourish in big cities, I think when you come from somewhere more visually conservative, like New Zealand for example, this is part of the reason that you move to a big city.
HOW IS THIS PROJECT TIED TO THE CITY OF LONDON?
The project is intimately tied to East London! I was a real East London person during the years I was shooting these images, I rarely went to West London. Most of my photos were taken on the street or in pubs during the daytime, I couldn't afford studio spaces and wasn't really interested in shooting in them, so I was on the street or in whichever free location I could find. The photos show how much the area has changed since I took them, I have a series of last nights, so last night of The Joiners Arms, last night of The George and Dragon, these photos are about the changing nature of nightlife in East London.
IS COUNTERCULTURE SYNONYMOUS WITH EAST LONDON?
I think it was when I was shooting these images, and it still is to a certain degree, but I think these days most artists and creatives have been priced out of East London and you're more likely to find the counter culture somewhere else where rent is cheaper.