Giorgia Andreazza is giving Milan's next-gen fashion scene a new retro-futuristic look
Milan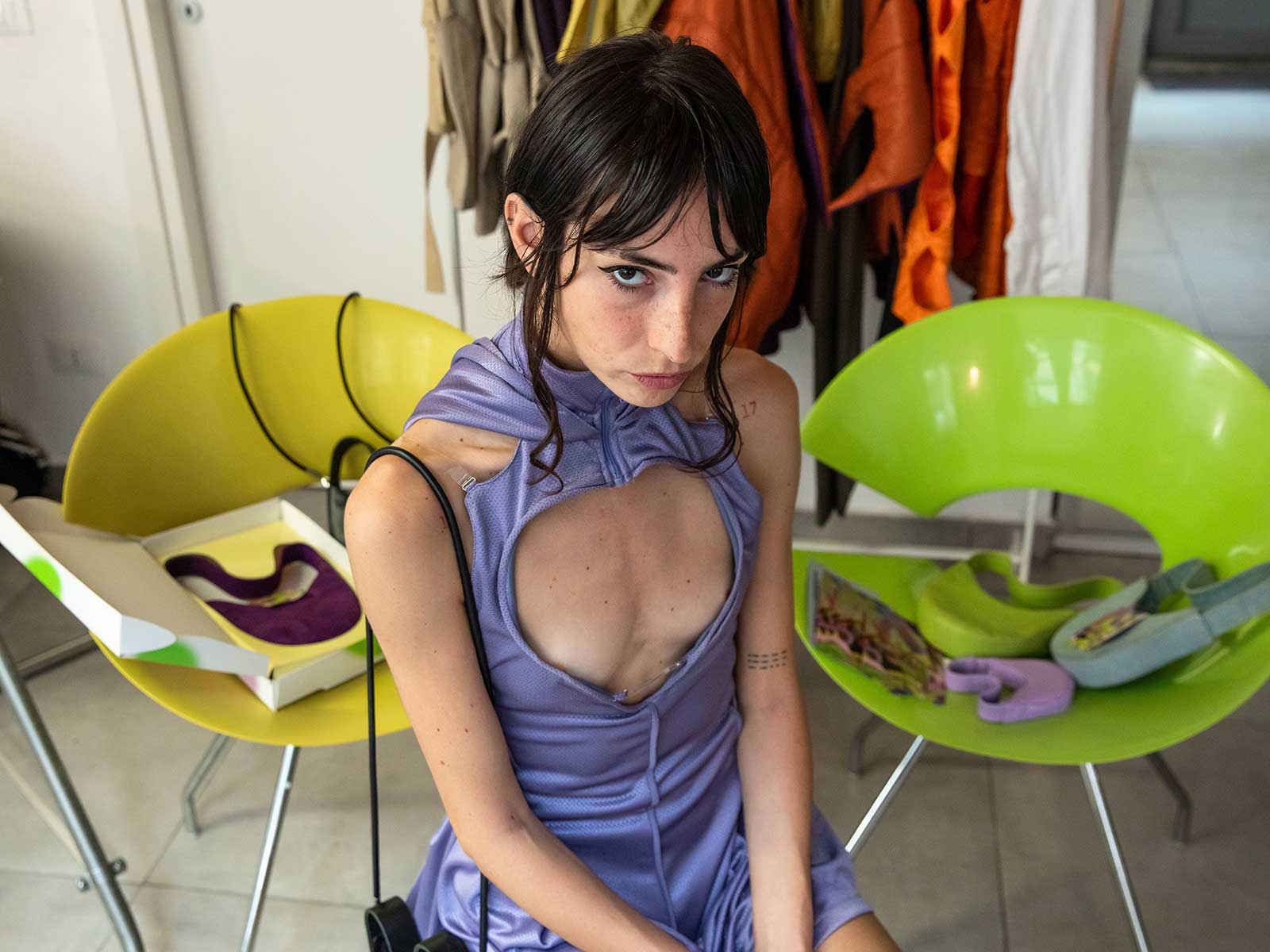 Milan has a new designer shaking up the emerging creative scene. ​​With her dedicated approach to keeping her label sustainable and strictly made in Italy, Giorgia Andreazza represents everything positive about Milan's next generation of talent. Born and raised in Italy, Andreazza got her start after moving to Milan to study fashion design at the New Academy of Fine Arts (NABA).
Going against the grain, Andreazza waited for no one when it came to launching her label. In fact, while most students release their first official collections as postgraduates, she debuted her first collection under her eponymous brand just a year into her studies. Yet despite her early start, she also managed to channel important messaging through her clothing, creating all her collections from entirely deadstock materials.
Her background also played an important part in her brand ethos. "Initially, my approach to the Made in Italy fashion industry came because of my family's ties to it," she explained. As the daughter of a textile shop owner, Andreazza has mastered the synergy of combining traditional Italian tailoring with revamped, dramatic and sensual silhouettes. "The label's strong aesthetic is inspired by socio-cultural, environmental and political movements. Giorgiandreazza's creations express the idea of an entity, not conforming or defined by a specific gender." Breaking down the barriers of what is considered acceptable, Andreazza merges the old and the new, taking her influences from rave culture and 90s music and giving it a futuristic glow.
Most recently, Andreazza took Milan Fashion Week by storm, presenting her latest Spring Summer 2023 collection. Entitled 'Drriinn Puppy', she took pushed the barriers of what fashion can be to a new level, creating a collection around how fashion, art and music can coexist to create elevated pieces. Shown in a performance-art style presentation, each piece of clothing had the ability to create a sound and take Giorgiandreazza to new heights.
Off the back of her successful last presentation, Andreazza's next steps are to take her proud Italian roots and talent to a more international market as she continues to expand her craft, noting that "the next step will be to consolidate this innovative concept and develop it in more than one direction".
To celebrate the 400 posters of Andreazza's collection we placed throughout her city, we also got to know more about her and her love for Milan below.
WHERE DO YOU FIND THE MOST INSPIRATION IN MILAN?
So much inspires me: everyday experiences; friends that bring back new ideas from their travels; evenings spent in places considered out of the norm and nights spent talking in bed with my boyfriend, making up surreal stories that then become solutions to real life problems.
In Milan I am inspired by what lies on the margins of the city, physically and metaphorically – monster truck shows, mini golf games at fun fairs, local neighbourhood festivals. Some would say these are the opposite of cool and inspiring. To me it is all about how you interpret those environments and experiences and transform them into something else.
WHAT DO YOU LOVE ABOUT MILAN?
I love Milan because it is where Giorgiaandreazza has started.
I love Milan because it has recognized and supported my vision and project.
I love Milan because I now feel at home here, truly accepted and fully integrated.
I love Milan because I am in Italy but, at the same time, I feel in close contact with the whole world.
I love Milan because, at times, by being exhausting, it pushes me to go abroad and experience different realities but then warmly welcomes me and my new ideas back.
I love Ortica, my neighbourhood, that with its creative energy has given birth to so many exciting encounters and artistic collaborations.
HOW WOULD YOU DEFINE YOUR LABEL?
All fabrics and materials used are deadstock from big brands and factories based in the North of Italy. Giorgiandreazza's clothes are an expression of dynamism, a filtered observation of various art forms mixed with an attention to detail that is complex and borderline obsessive.
I love transformation and evolution and the result is a combination of deconstructed forms and shapes made with high quality Italian fabrics. For me, each piece must be truly special to the person wearing it and, for this reason, everything is totally handmade. Everything is made to order with a respect for a traditional made-to-measure tailoring seen through a more contemporary and sustainable lens.
WHAT'S NEXT FOR GIORGIAANDREAZZA?
The presentation of my new collection SS23 at Milan Fashion Week has been a huge step forward for both my growth as a designer and for my label. By collaborating with two music engineers, each piece in the collection has a 'voice' and you can hear sounds coming from the garments themselves. The next step will be to consolidate this innovative concept and develop it in more than one direction. Thanks to the great interest and support received at MFW, I am also planning to bring my label to a more international market.
HOW WAS YOUR FASHION JOURNEY IN MILAN SINCE YOU CAME TO STUDY?
My journey has been challenging, lived day by day with hesitations and fears that, at times, stopped me before I had properly started anything. My perception and interpretation of fashion hasn't changed much since I first moved to Milan to study 8 years ago, but I now feel that I have a deeper understanding of it and made it more and more mine. My research process stems from my family's tradition of bringing our garments and household items to flea markets. My vision of fashion therefore quickly becomes synonymous with a quest for the unique, for a hidden idea, whether I may be looking for it in flea markets or in deadstock fabric warehouses.
WHAT IS YOUR STARTING POINT WHEN DESIGNING A COLLECTION? WHAT INSPIRES YOU?
It all starts with emails titled 'warehouse clearance' from large factories in the North of Italy. Here I find deadstock fabric and materials of the highest quality for reasonable prices that I then proceed to study carefully. I discuss dying options with collaborators and I start to come up with graphics and print ideas to make these fabrics truly mine. What follows is some very ugly sketches that then become beautifully detailed drawings made with Pantone coloured pencils. The drawings are never quite finished – they keep on changing and they increase in numbers. I then make the pattern, put it on a mannequin and from there on 'I love to play with my mistakes'. I make, I disassemble, I modify, I cut, I dismember and finally I get to something that is totally different from what I started with. When I am amazed at something I have not noticed or expected, only then, I would consider a piece finalised and ready.